ep028
Celebrity robots brought to life, with Fred Barton
In today's episode we speak with celebrity robot maker Fred Barton who is best known as ROBOTMAN. As an expert in the Sci-Fi genre, he'll be giving us an overview of robots in the cinema from the first shoots to today with a special emphasis on his all time favorite, Robby the Robot from the 1956 Forbidden Planet. Finally, tell us who your favorite movie robot is for a chance to win a Sci-Fi DVD or Bluray of your choice!
Fred Barton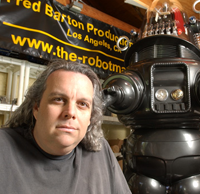 As a teenager in highschool, Fred Barton decided he needed to have his own full size version of Robby the Robot from the Forbidden Planet. After home-making all the parts he ended-up with his first celebrity robot and went on to restoring the original Robby movie prop. However, it is only in 1996 that he decided to make a living out of his childhood passion and build robot collectibles for museums and our fellow enthusiasts. His Hollywood company, Fred Barton Productions, is the exclusive manufacturer and licensee for some of the best known movie robots including Robby. He's built many other life-size computerized replicas including those of the original Star Wars Trilogy droids R2-D2 and C-3PO, Robot Model B9 from Lost in Space, Gort from The Day the Earth Stood Still, Maria from Metropolis, the Target Earth robot, T2-Endoskeleton.

More generally, Fred Barton has become an expert in the Sci-Fi movie genre and is involved in many of the robot movies coming out of Hollywood. He is a member of the jury of the Robot Hall of Fame and his protegee, Robby, is a 2004 inductee.
Contest: Who's your Favorite Celebrity Robot
Most of us robotics fans are Sci-Fi lovers, diving into futuristic stories for inspiration. That's why we want to give you a chance to win your favorite Sci-Fi DVD or bluray. Just let us know, here on the forum, who your favorite movie robot is and motivate it with text, pictures, movie snippets or nothing. The winner will be the one who proves to be the most assiduous Sci-Fi lover. The competition will be open until the 2nd of July 2009.
Tell us who your favorite movie robot is here.
Links:
---
Latest News:
More information on and videos of Israel military's new snake robot, Tokyo's International Food Machinery and Technology Expo and Willow Garage's PR2 in our forum.