ep099
Dexterous manipulation and morphogenesis, with Bruno Siciliano and Rolf Pfeifer
The 5th edition of the SCHUNK Expert Days, organized by SCHUNK GmbH from February 29 – March 1, once again brought together renown roboticists, and culminated in enriching discussions and insights. In the course of the last editions, this exclusive convention has gathered 79 speakers from 14 countries worldwide, and has caught our attention due to its cutting edge focus on service robotics.

Today's episode features two of this year's key speakers, Bruno Siciliano and Rolf Pfeifer – we took advantage of the stimulating conference atmosphere to ask them more!
Bruno Siciliano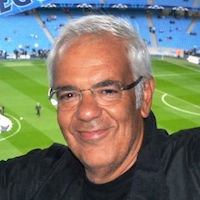 Bruno Siciliano is Professor of Control and Robotics, and Director of the PRISMA Lab in the Department of Computer and Systems Engineering at University of Naples Federico II. His research interests include force and visual control, human-robot interaction, cooperative manipulation and aerial robotics.
He has co-authored 7 books, 70 journal papers, 180 conference papers and book chapters. He has delivered 90 invited lectures and seminars at institutions worldwide, and he has been the recipient of several awards. He is a Fellow of IEEE, ASME and IFAC. He is Co-Editor of the Springer Tracts in Advanced Robotics, and of the Springer Handbook of Robotics which received the PROSE Award for Excellence in Physical Sciences & Mathematics. His team is currently involved in six FP7 European projects. Professor Siciliano is the Past-President of the IEEE Robotics and Automation Society.
Rolf Pfeifer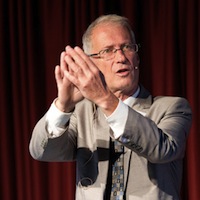 Rolf Pfeifer has been a professor of computer science at the Department of Informatics, University of Zurich, and director of the Artificial Intelligence Laboratory since 1987. His research interests are in the areas of embodiment, biorobotics, artificial evolution and morphogenesis, modular robotics, self-assembly and educational technology.
He worked as a visiting professor and research fellow at the Free University of Brussels, the MIT Artificial Intelligence Laboratory in Cambridge, Mass., the Neurosciences Institute (NSI) in San Diego, the Beijing Open Laboratory for Cognitive Science, the Sony Computer Science Laboratory in Paris, and was elected "21st Century COE Professor, Information Science and Technology" at the University of Tokyo. He was also a visiting professor at the Scuola Superiore Sant'Anna in Pisa, at Shanghai Jiao Tong University in China, and he was appointed "Fellow of the School of Engineering" at the University of Tokyo. Currently, he is the Deputy Director of the NCCR Robotics, the "National Competence Center for Research in Robotics" in Switzerland.
Links: