ep077
European robotics (Part 2), with Bernd Liepert and Rich Walker
The European Robotics Forum, jointly organized by the European Robotics Technology Platform (EUROP) and the European Robotics Research Network (EURON), was hosted this year on April 6-8, in Västerås, Sweden by Robotdalen. Thanks to an invitation by EUnited Robotics, we got a chance to be there and talk to some of Europe's major players in the field, from both industry and research.
Today's episode is the second of a two part series on the event, in which we talk to Bernd Liepert CTO of KUKA AG and president of EUROP and Rich Walker from Shadow Robot.
Bernd Liepert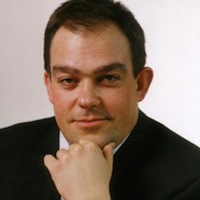 Bernd Liepert is the Chief Technical Officer of KUKA AG, a german company founded over 100 years ago. It is now one of the world's leading suppliers in the field of robot technology as well as in plant and systems engineering. Most well known for its industrial robots initially used in the automotive industry, KUKA is now exploring next generation industrial and service robots. The company has 5,700 employees and generates a business volume of around EUR 900 million.
Liepert joined KUKA Roboter in 1990 as a Mathematician and Software Developer. In 1996 he became the Head of Control Development and in 1998 he was a member of the Board of Management responsible for Development and Design. In 2000, Bernd Liepert served as the CEO of KUKA Roboter and recently in 2010 he joined KUKA AG as its Chief Technical Officer.
Liepert is also the and the President of the European Robotics Technology Platform (EUROP) as of May 2010. EUROP is an industry-driven framework that aims at strengthening Europe's competitiveness in robotic R&D, as well as global markets, and to improve quality of life.
Rich Walker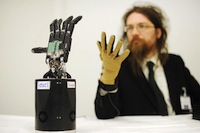 Rich Walker is the managing director of Shadow Robot, a UK based company. He tells us about the beautiful history of Shadow Robot, starting from bipedal robots 20 years ago, to carving robot hand prototypes out of maple wood and finally developing dexterous human-like manipulation. Shadow robot now has one of the worlds most advanced robot hands, the Shadow Dexterous Hand, currently in version C6. It provides 24 movements that allow for a direct mapping from a human to the robot, has integrated sensing and position control and can be fitted with touch sensing on the fingertips. To make their hands compliant and user-friendly, Shadow has been investigating new actuation such as pneumatical artificial muscles and artificial tendons driven by a single motor. Mostly research oriented, the robot has been used to study cognitive science, brain computer interfaces, and prosthesis. Some of its famous clients include NASA and BBC.
https://www.youtube.com/watch?v=GG_nEZD9pFQ
Links: