ep17.
Industrial robots in research, with Raúl Ordóñez
In this episode we talk to Raúl Ordóñez about his new Motoman Robotics Lab at the University of Dayton and the research he plans to do with his high profile industrial robots.
Raúl Ordóñez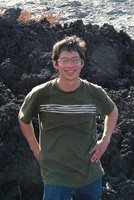 Raúl Ordóñez is the director of the Nonlinear Control Lab and the newly created Motoman Robotics Lab at the University of Dayton in Ohio.
The Motoman Lab houses six state-of-the-art industrial robots, including a seven-axis, actuator-driven IA20 robot; a 15-axis, actuator-driven and human-like dual-arm DIA10 robot; a four-axis YS450 high-speed SCARA robot; two six-axis HP3 articulated robots and one HP3C six-axis, articulated robot with a compact controller.
Using these industrial robots, he will be looking to study visual servoing which would allow robots to control their movements based on visual feedback derived from cameras and maybe achieve tasks such as pole-balancing or even juggling. Such closed-loop control could lead to novel applications for the industry and robots that are able to perform in changing environments.
However, whenever the researchers have their backs turned, the robots come to life to perform multi-robot dances on the music of the Star Wars Movie or the Dance of the Sugar Plum Fairies.
More generally, Ordóñez has been studying nonlinear control systems over the years, using several different test-beds including robot arms, helicopters, table top mobile robots and humanoids. He'll be explaining what makes these systems non-linear and how this research allowed him to spend eight weeks this summer in the Boeing Welliver fellowship program, working on the control of planes.
Links:
---
Latest News:
For a summary of new robots at this year's CES, a high-speed video of the flight of the .23 g ornithopter, and more information on the new exoskeleton have a look at our robot forum.