ep074
Mind control, with Raul Rojas and Geoffrey Mackeller
In today's episode we look at a novel way to interact with your robot: through mind control. Raul Rojas returns to our show to talk about how his AutoNOMOS team used brain waves to give commands to their autonomous vehicle, MadeInGermany. We then talk to Geoffrey Mackeller, CTO of Emotiv Systems, the producer of the EEG headset used as an interface for this project.
Raul Rojas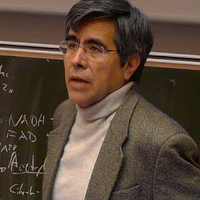 Raul Rojas from the Artificial Intelligence Group of the Free University of Berlin, joins us for a second time on our podcast to talk about BrainDriver, a project in which they used a commercially available EEG interface called the Emotiv EPOC to interpret bioelectric signals as patterns associated with directions. These patterns are then used to send inputs to the drive-by-wire system of the MadeInGermany autonomous vehicle.
Geoffrey Mackellar
Geoff Mackellar, CTO and Research Manager of Emotiv Systems, talks to us about their innovative low-cost wireless EEG headset, the Emotiv EPOC. He gives us some insight into the sensing platform and the training process and also tells us about the different applications that can be approached through such an interface.
A couple of impressive demos can be found here and here.
Links: