ep080
Schunk manipulators, with Henrik Schunk
In this episode we speak with Henrik Schunk, Managing Partner of SCHUNK GmbH & Co. KG and Chairman of EUnited Robotics.
Henrik Schunk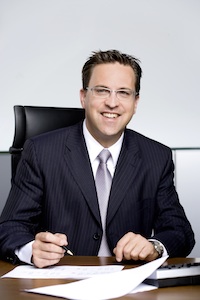 Henrik Schunk is managing partner of SCHUNK GmbH & Co. KG, family run business out of Germany with over 1800 employees and presence in 50 countries. As such, he is responsible for the Business Unit Automation and the cross-divisional departments Sales, Marketing, Continuous Improvement and IT. SCHUNK is one of the leaders in clamping and gripping technology featuring more than 10'000 specialized products.
In this episode, we look at recent developments in gripping technology, challenges that still remain after over 70 years of development, and the need for task-adapted systems and high-end products including anthropomorphic robotic hands.
Henrik Schunk also discusses his hopes for service robotics as one of the main areas of development in automation. To drive the field forward, his company organizes the SCHUNK Expert Days that bring together some of the main actors in service robotics. He also presents his view on European Robotics as Chairman of EUnited Robotics.
Links: