Co-written with Susan McFarlane, robotguide, the guide to personal robots
Most Russian robotics companies are clustered in north-western Russia, i.e., in St. Petersburg and Moscow, which corresponds to the main business and financial centers of the federation.
The Russian Federation has a traditional and strong history in science and engineering. These days that pool of learning and manpower is much more open and accessible than it was during Soviet times. This change has brought with it goods from outside the Federation, increased competition, and less need for the country to produce all the machines and products that it needs.
Excluding sales and service distributors of Finnish, German, Korean and Japanese robot vendors, the number of Russian robotics companies does not appear to be large for the size of economy, but it is definitely growing.  Just over 10% of the companies we found are integrators, companies that design, engineer, develop and assist in the automation of their clients' production sites. These integrators use robots manufactured outside the Russian Federation.
Russian robotics companies that we've found so far include: 38% startup companies (of which 2/3 are companies building robots for various uses and 1/3 are providing software or vision systems for robotics systems), 17% are providing service robots for governmental and corporate use, 8% are for space or defense, and 8% are education-related. The final 29% are ancillary businesses such as software developers, vision systems providers and component manufacturers.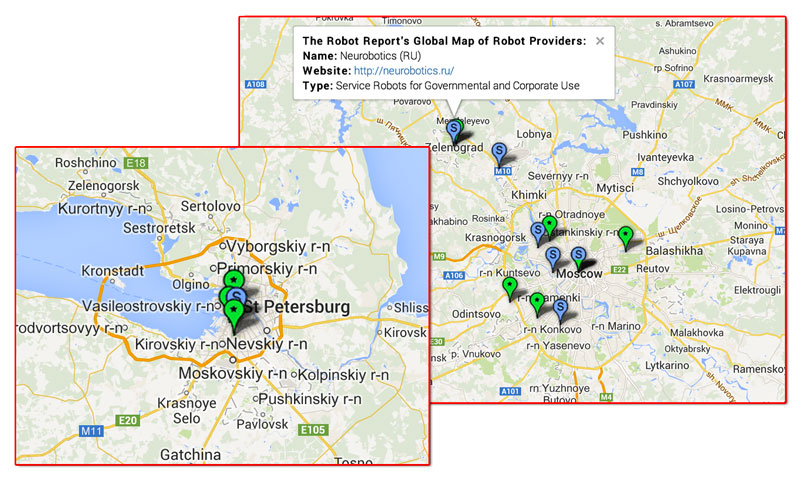 Anxious to ensure that the robot revolution does not pass Russia by, the Skolkovo Innovation Centre that has been created near Moscow will ensure that robotics are firmly embedded in the innovation schema. The centre is designed to concentrate international intellectual capital in order to stimulate the development of break-through projects and technologies. As a result, many new startup companies are being formed.  Some of these are selected to become project participants of the centre, receiving extra assistance for quicker development. The Skolkovo Foundation provides infrastructure and resources, delivering effective services for companies that are project participants.
The Centre hosted a robotics conference in February 2013, to support research and development  in the field of robotics, particularly in the fields of personal and service robotics.  The conference brought together international experts, venture funds and research and scientific teams along with university students.  The 2013 conference saw the launch of the annual Skolkovo Robotics Challenge contest, which will fund the production of experimental prototypes.  A second conference is planned for 2014.
As for the less formal space, the country has three hacker / maker spaces which provide a focus for hobbyists and small businesses to collaborate, encouraging some sharing of ideas and technology in the robotics field.
1. In Ekaterinburg (Makeitlab, http://www.makeitlab.ru/)
2. In Moscow (Neuron, http://neuronspace.ru )
3. In St. Petersburg (Hackspace-spb, http://hackspb.ru/en)
There is definite Russian interest in the technical and market challenges that the field of robotics holds, and this is something that has interested investors – Dmitry Grishin and Dmitry Itskov to name a couple – and the government – hence their sponsorship of the Skolkovo Innovation Centre. Russia certainly has the technical knowledge and capabilities to contribute to the emerging robotics industry on the world stage and is beginning to do all they can to support the companies rising to the challenge.
tags:
Dmitry Grishin
---
Frank Tobe
is the owner and publisher of
The Robot Report
, and is also a
panel member
for Robohub's
Robotics by Invitation
series.
Frank Tobe is the owner and publisher of
The Robot Report
, and is also a
panel member
for Robohub's
Robotics by Invitation
series.