Robotics company Engineered Arts has teamed up with Pipeline Theatre for a new play, Spillikin: a love story between a robot and an elderly woman. The collaborators plan to debut their work at this year's Edinburgh Fringe, the largest arts festival in the world, but they need your help and have created a campaign with some exclusive robocentric rewards.
Spillikin is not only a technical feat, featuring the advanced facial imagery unique to Engineered Arts' 6-ft tall humanoid, Robothespian, but its themes are of particular resonance in today's ageing society: ethics, morality and the care of vulnerable individuals.
An obsessive archivist is concerned for the welfare of his wife after his death. She has  Alzheimer's. His solution is to upload a robot with his own memory. What ensues is, in essence, a modern day love story.
The play presents a machine with the patience, intuition and sensitivity of a human, but one that never tires of repeating information and is able to interact by recognising and producing subtle emotional cues; the robot is not only a carer, it's an aide-memoir, a singing partner and can bring order to confusion.
More than just a gimmick
While there have been robots on stage before, all too frequently they're wooden, stilted creations, lacking fluidity or believability. In Spillikin, the robot is more than just a gimmick, it's a central part of the premise.
The collaboration with Pipeline came about because, as the creators of RoboThespian, we realised that the only way to truly demonstrate the capabilities of this technology was to get involved ourselves. For some time now we've had our eye out for a project that would showcase RoboThespian's full abilities.
"Despite the name, RoboThespian is rarely used on stage," says Engineered Arts director Will Jackson. "Mostly he gets to be an MC, or a guide, or a help-desk. But we've spent the last three years developing technology that enables RoboThespian to be a true acting chameleon. It's high time that was put to good use."
The technology depicted in the play is not far off the current capabilities of social robots. Systems such as Paro and Zora are already used in care homes around the world and multiple studies demonstrate that this can improve the quality of life of both patients and carers. But is it an idea that our society finds ethically and morally defensible?
We wanted to look at the issue without falling into the usual bipolar utopian / dystopian cliches. Fortunately, Pipeline have created a beautiful, funny, very human work that explores a subtle and complex issue. It's made all the more poignant by the experience of one of the creative directors, whose own mother has Alzheimer's.
Technical challenge
Developing an acting robot that can occupy a shared stage with professional actors is a considerable technical challenge. The RoboThespian starring in Spillikin can emote with a full range of human expression and uses the world's most advanced projective face.
Its face is largely made up of software and features a miniature internal projector. It's animated via direct manipulation of facial action units, which are software versions of the muscle groups used to create human expressions. This provides unprecedented biological realism and versatility.
To create realistic expressions and tweening – generating intermediate frames between two images to create a smooth transition – was quite a challenge. Developing the facial meshes and back-end software took two years and the work of multiple animation experts.
Traditionally, humans and robots are kept well apart, in order to avoid injury, but RoboThespian is a hybrid pneumatic-electric device, designed to interact in small spaces alongside humans. Falling under the 'soft robotics' class, which encompasses inherently compliant mechanisms, RoboThespian can be pre-programmed, with movements generated 'on the fly' without fear of injury. The actors can also touch and move the robot in unscripted ways without risking injury or damaging it.
Help support us!
 Along with our time, we've donated a RoboThespian to the production. Together with Pipeline, we've also mounted an Indigogo campaign to raise enough money to cover actors salaries and costs for rehearsals, as well as the show itself. With covetable robot-centric rewards and experiences, our campaign is unique amongst theatre crowd-funders. Help fund us and you could: access and experiment with the programming tools we use to create RoboThespian's performances; put your own face and voice on one of our robots, or even take home a limited edition desktop developer robot of your very own.
If you liked this article, you may also be interested in:
• Robots Podcast: Robotics in theatre, film and television
• Robots Podcast: RoboThespian
• Robots Podcast: Robot actors at the theater
• RoboThespian co-hosts new robot documentary from CBC – "Roboticize Me"
See all the latest robotics news on Robohub, or sign up for our weekly newsletter.
tags:
Alzheimers
,
c-Arts-Entertainment
,
crowdfunding
,
Engineered Arts
,
Pipeline Theatre
,
RoboThespian
---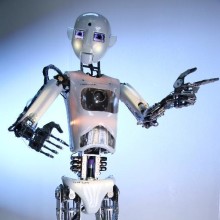 Engineered Arts
are a group of dedicated robotics engineers, software developers, technicians and artists.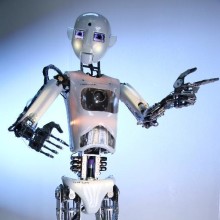 Engineered Arts are a group of dedicated robotics engineers, software developers, technicians and artists.
---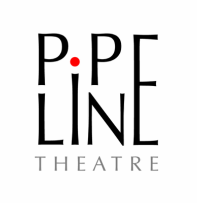 Pipeline Theatre
specialise in new writing, and aim to make theatre with high production values, in which design and text develop in tandem.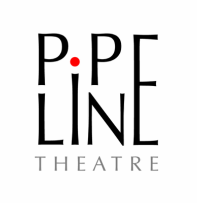 Pipeline Theatre specialise in new writing, and aim to make theatre with high production values, in which design and text develop in tandem.