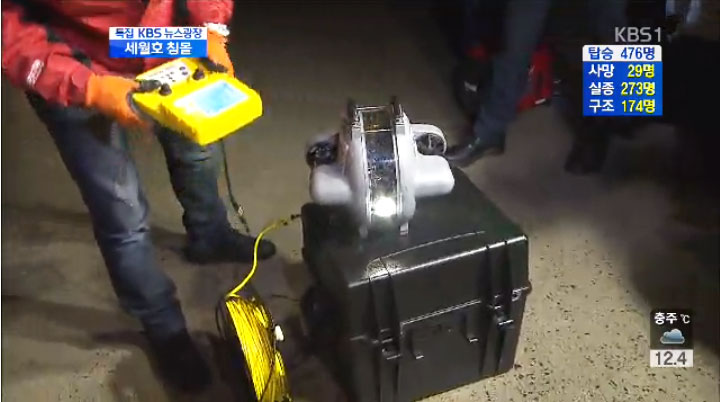 The search and rescue team involved in the recent South Korean ferry tragedy has deployed a remotely-operated underwater robot to help in the investigation and hopeful search for possible survivors in what has been called the country's worst maritime disaster in forty years. The Sewol ferry sunk off the coast of South Korea on April 14, 2014 carrying 476 passengers and crew on board; of these, 339 were high school students and teachers on a field trip. While 174 people have been rescued, divers' efforts to locate the remaining victims have been hampered by strong currents, cold water and floating debris. An underwater ROV by Deep Trekker has been deployed to help rescuers assess the wreckage and the surrounding sea floor before sending divers into the ferry's interior.
Hwang Dae-Sik, a diver at the scene, explained to Reuters the immense difficulty of his task: "We are trained for hostile environments, but it's hard to be brave when we meet bodies in dark water … This is the most gruelling and heartbreaking job of my career." According to the Reuters report, divers have been navigating the dark corridors of the ferry while carrying tethered oxygen tanks and communication lines that can snag on the sharp corners of the wreckage's interior. Divers can only stay underwater for about an hour at a time.
"My heart goes out to the friends and families of these victims," said President of Deep Trekker Sam Macdonald. "We hope our ROV can help keep divers from being put at further risk and that the families will get some closure."
Websolus Co., Deep Trekker's South Korean distributor, had a demo of the DTG2 ROV on hand and was able to quickly deploy the device and their expertise to the search and rescue team at the site of the accident. "We were fortunate that our dealers, who are also expert operators of the DTG2, were there to help," said Amanda Coulas, Project Manager at Deep Trekker.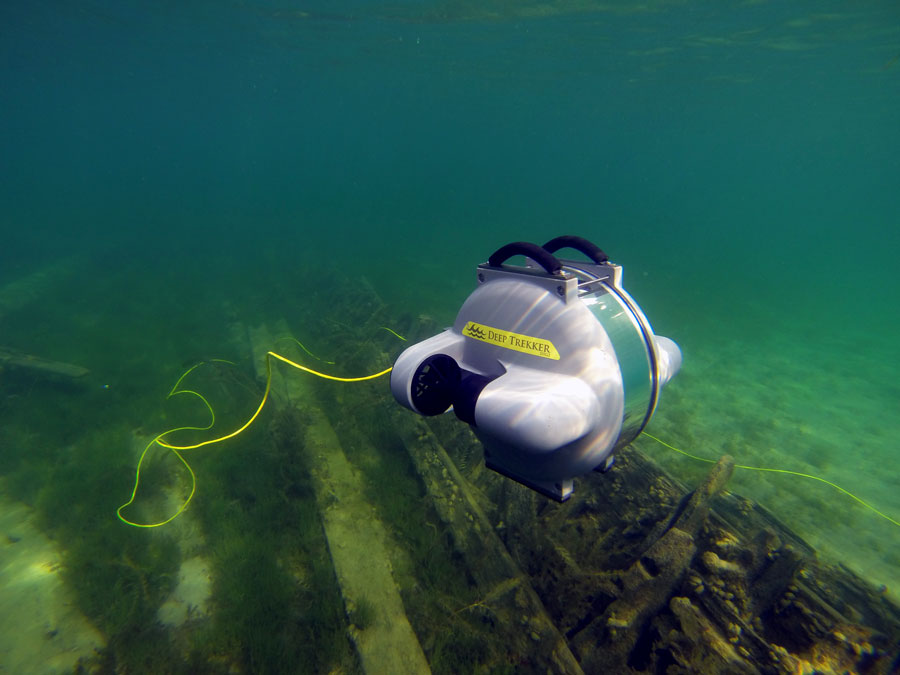 The DTG2 is a lightweight (8.5 kg) and portable remotely operated vehicle (ROV) designed for underwater exploration. It uses a patented internal pitching system that allows the ROV to move horizontally and vertically using only two thrusters. The independently mounted camera allows the operator to either set the camera to hold steady as the body rotates, or set the camera to move with the body as it pitches, making it possible to do detailed inspections. The DTG2's power is contained within the submersible, and its low-drag tether has a diameter of just 4mm, allowing it to maneuver with minimal impact from the surface. Its die-cast aluminum casing is anodized and powder coated, making it suitable for both fresh and salt water use.
Until recently, most underwater ROVs have been too expensive and complicated to be easily deployed by rescue crew – many costing in the range of $25K – $50K and requiring skilled engineers to operate. But according to Macdonald, the search and rescue market is starting to realize that it can have an ROV solution within their budget. The Deep Trekker unit operating at the wreckage site in South Korea runs under $5000 USD and their DTG2 Worker model, which is equipped with a two-function grabber and allows operators to retrieve objects under water, is priced just under $8000 USD. Deep Trekker has ROVs working in 34 countries at present.
"In general, it only takes a few minutes to understand the controls, an hour or so to be good at them and maybe a weekend of practice to be an expert operator," said Coulas. "Other ROVs require topside power – a generator – to send power down the tether to operate the ROV. This makes it much harder to transport the ROV in a zodiac or small rescue boat. Our ROV can operate 5-8 hours on one 3-hour charge."
A Waterloo-based company, Deep Trekker got its start in the Great Lakes region of Ontario, Canada. "My partner and the engineering brains behind Deep Trekker Inc., Jeff Lotz, had developed an ROV for a college project about 14 years ago after he capsized his canoe and lost a lot of gear," said Macdonald via email. "I had a similar situation in 2009 when I dropped a flashlight off of my boat, and began thinking about all the exploration that could be done in the Great Lakes if we had an ROV. Through a series of connections, the three partners in Deep Trekker Inc. got together and began exploring the possibility of an affordable, portable ROV that would be accessible to everyone. After meeting, conceptualizing and building for about 18 months, the first Deep Trekker voyage was made in Lake Huron." The trio's website was later discovered by an aquaculture equipment dealer in Norway, whose initial purchase of several of units helped to launched the company.
Search and rescue is a relatively new market for Deep Trekker, which in the past has concentrated on the aquaculture, commercial diving, recreation, and energy sectors. A Research and Markets report released in March estimates the global ROV market to be $1.2 billion in 2014, primarily driven by offshore drilling.
tags:
c-Mapping-Surveillance
,
cx-Mapping-Surveillance
,
ROV
,
search and rescue
,
underwater
---
Hallie Siegel
robotics editor-at-large
Hallie Siegel robotics editor-at-large