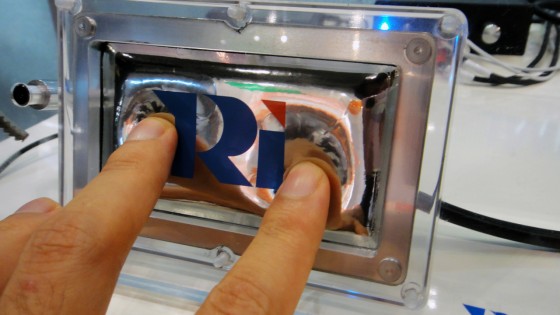 Tokai Rubber Industries has developed the world's first all-rubber speaker. This speaker utilizes Smart Rubber, which conducts electricity and can freely expand or contract, to generate sound.
Previously, the company developed flexible, all-rubber touch sensors using Smart Rubber. This all-rubber speaker arose from the company's new line of development: materials for artificial muscles.
Q. "Until now, thin speakers have been piezoelectric and film types, as used in smartphones and tablets. But those don't produce low-frequency sounds. By contrast, the rubber speaker we've developed does produce low frequencies. It's the first speaker of this kind in the world."
This speaker consists of a piece of non-conductive rubber sandwiched between two rubber electrodes. When a voltage is applied between the rubber electrodes, static electricity is generated, causing the sheet to expand. Sound waves are generated by the repeated expansion and restorative force of the rubber sheet.
"Of course, technology is needed to make rubber conduct electricity. What our technology does is give the rubber a uniform surface charge. Another thing needed is insulating rubber between the pieces of conductive rubber. Each type of rubber has to be flexible, and the insulating rubber mustn't change its resistance when it expands. That's a key technology in this speaker."
"Wearing headphones is a bit of a hassle, so we'd like to use the flexibility of this speaker to build it into chairs and the like. That way, people could enjoy audio in open settings."
"Currently, we don't have a specific product roadmap. We'd like to think about needs and applications together with potential customers, including those at CEATEC. Then, we'd like to turn this speaker into a commercial product."