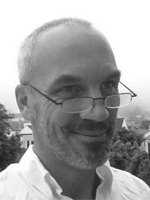 Follow @GeppettoAvatars
Mark Stephen Meadows is the founder, CCO, and CSO of
Geppetto Avatars, Inc
, which builds conversational characters for education, entertainment, medical, and robotics applications. He is also the author of "
We, Robot
," and other books that examine media, technology, and their cultural impact. Helping to build the third dot-com webserver (well.com, in 1993) Meadows went on to found his first company, Construct, in 1995. The company was sold in 1998. In the following years Meadows worked at Xerox-PARC, Stanford Research Institute, and the Waag (among others), and also traveled extensively lecturing on this work. In 2012, after nearly a decade's experience in Natural Language Processing, character design, realtime 3D, and interactive narrative, Meadows founded Geppetto Avatars. The company vision includes combining education, entertainment, and healthcare to build emotionally intelligent natural language interfaces for both hardware and software robots.
Mark writes a semi-regular column for Robohub.
Recent posts:
Robotics by invitation answers:
Recent scoops:
More posts by Mark Stephen Meadows..