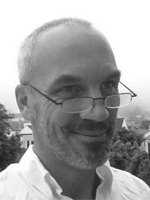 Follow @meadovian
Mark Stephen Meadows is the founder and Chief Creative Officer of
Geppetto Avatars, Inc
, which builds linguistic interfaces and conversational assistants for healthcare, financial, education, entertainment, and robotics applications. He is also the author of "
We, Robot
," and other books that examine media, technology, and their cultural impact. Helping to build the third dot-com webserver (
well.com
, in 1993) Meadows went on to found his first company, Construct, in 1995. In the following years Meadows worked at Xerox-PARC, Stanford Research Institute, and the Waag (among other research centers), and also traveled extensively lecturing on this work. In 2012, after nearly a decade's experience in Natural Language Processing, character design, realtime 3D, and interactive narrative, Meadows founded Geppetto Avatars.
Recent posts:
Recent scoops: