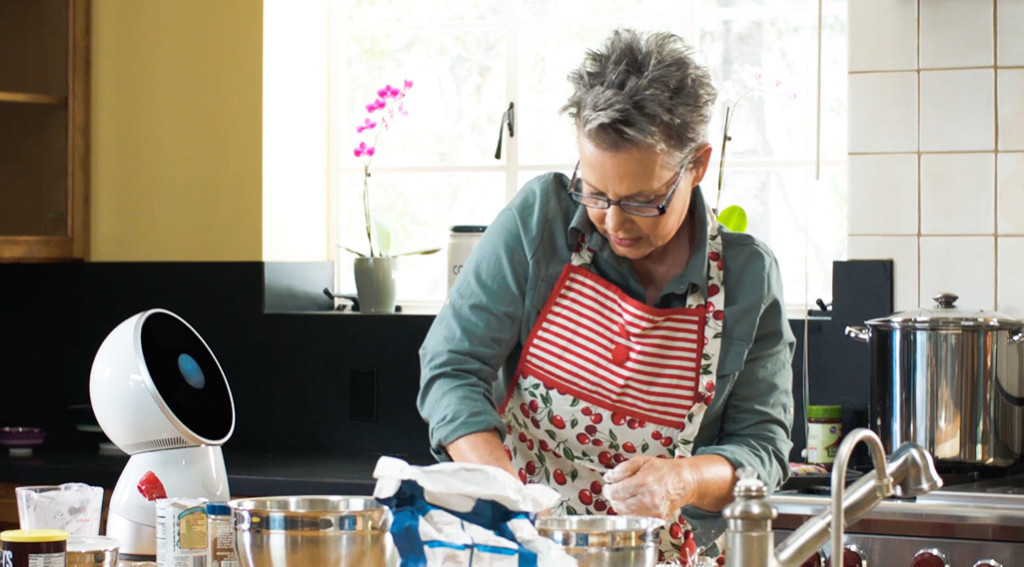 1,000 Pepper robots are selling each month from a big-dollar venture between SoftBank, Alibaba and Foxconn; Jibo just raised another $16 million as it prepares to deliver 7,500+ units in March and April of 2016; and Buddy, Rokid, Sota and many others are poised to deliver similar forms of social robots. 
These new robots — and the proliferation of mobile robot butlers, guides and kiosks — promise to recognize your voice and face, and help you plan your calendar, provide reminders, take pictures of special moments, text, call and videoconference, order fast food, keep watch on your house or office, read recipes, play games, read emotions and interact accordingly. The list goes on.
These products are attempting to be analogous to a sharp administrative assistant who knows your schedule, contacts and interests, and engages with you about them to help you stay informed, connected and active.
According to a research study by Tractica, annual shipments of consumer robots (a category that includes robotic vacuums, lawn mowers and pool cleaners as well as social robots) will increase from 6.6 million units in 2015 to 31.2 million units worldwide by 2020, with a cumulative total of nearly 100 million consumer robots shipped during that period.
Although robot vacuums will remain the largest segment of the market over the next several years, the fastest growth will occur in robotic personal assistants — a category that is nascent today. According to the report, "the next 5 years will set the stage for how these robots could fundamentally transform our homes and daily lives."
As social and companion products come to market, they incorporate artificial intelligence from the past several years. Yet almost every day there are breakthroughs in learning systems that will soon be commercialized and incorporated into future personal devices. These AI improvements will enable ubiquitous robotic and robot-like personal assistants and companions. Consequently, today's social robots are transition devices for early adopters to scrutinize, play with, suggest improvements to, and talk about — which is why 2016 is a pivotal year. It's the time when companies will sell enough units to learn whether their bots provide a real and lasting service, or if they are just a passing fancy.
These new products fall into three categories, and the primary ones (as determined by launch date and invested capital) are shown below:
Mobile devices
For homes

Pepper, by SoftBank Robotics. A mobile humanoid robot that sells for $1,600 plus an additional $200 per month for Internet service, updates and maintenance. Only speaks Japanese and French at present but Chinese and English are planned for early 2016. Peppers are selling at a steady rate of 1,000 per month.
Buddy, from Paris-based Blue Frog Robotics. A squat little $649 device that whisks around on wheels and casters and will do many of the things Jibo will do. Buddy will begin shipping and selling in 2016.

​For offices, stores, hotels, public spaces and museums

SaviOne/Relay by SaviOak. A hospitality robot that autonomously navigates hotel hallways and elevators to deliver items to hotel guests.
Store assistants and guides – multiple vendors are beginning to provide mobile kiosks that can identify items and navigate to where they are stored.
Public guides and assistants answering common questions – for airports, museums, galleries, public spaces, and soon, restaurants, by multiple international vendors.
Special-purpose mobile bots such as
Tabletop assistants
Jibo, the spin-out from the MIT Media Lab headed by Cynthia Breazeal. Twists and tilts and communicates like or better than Siri, initially only in English. Jibo will sell for $749, and connects to your home WiFi network. This recipient of more than $60 million in crowdfunds and equity investments, with $16 million in new funding that will be used to localize Jibo with language and apps for the Chinese and Japanese markets.
Sota, by Japan's largest telecom company, NTT, will sell for about $800, plus a monthly service of around $30. In addition to its ability to verbally communicate with the user, the robot can also assist the user with health functions by interacting with wearable devices to check blood pressure and heart rate.
Non-robotic home assistance devices
ECHO by Amazon is a stationary voice-activated hands-free device that provides information, answers questions, plays music, reads the news, checks sports scores or the weather, and more.
Rokid, by Chinese home automation company Rokid, will soon be introducing a stationary device with intelligent robot capabilities like omni-directional voice recognition using eight microphones, face recognition, and an ability to integrate into smart home automation systems.
MJI (More Joyful Innovation), a cute egg-shaped communication device with a 5″ screen, is being geared towards the elderly and those that required communication assistance. MJI can send and receive messages and phone calls without requiring any manual input using voice activation. MJI will begin production and sales early in 2016.
In addition to the products mentioned, there are many, many other cute bots designed for children, STEM education, schools, therapists, disability centers, and academia. They are all worthwhile products, but unlike those listed above, they are not being built for mass consumer adoption.
Bottom line
At this year's iREX Robot Expo in Tokyo and at the Beijing World Robotics Conference (both held last month) social, humanoid and mobile robots were the biggest crowd pleasers. Ten years ago PopSci reporter Tim Hornyak wrote "Loving the Machine" — a book about Asia's long-time fascination with robots. His insights still appear to be true: the Japanese really do have an unusual affinity for human-like robotic things. This is why so much money is flowing to help these new social robots quickly adapt to the Chinese and Japanese language markets, and to provide localized apps from their software stores.
---
If you like this post, you may also be interested in:
See all the latest robotics news on Robohub, or sign up for our weekly newsletter.
tags:
c-Consumer-Household
,
Jibo
,
Pepper
,
social robotics
---
Frank Tobe
is the owner and publisher of
The Robot Report
, and is also a
panel member
for Robohub's
Robotics by Invitation
series.
Frank Tobe is the owner and publisher of
The Robot Report
, and is also a
panel member
for Robohub's
Robotics by Invitation
series.