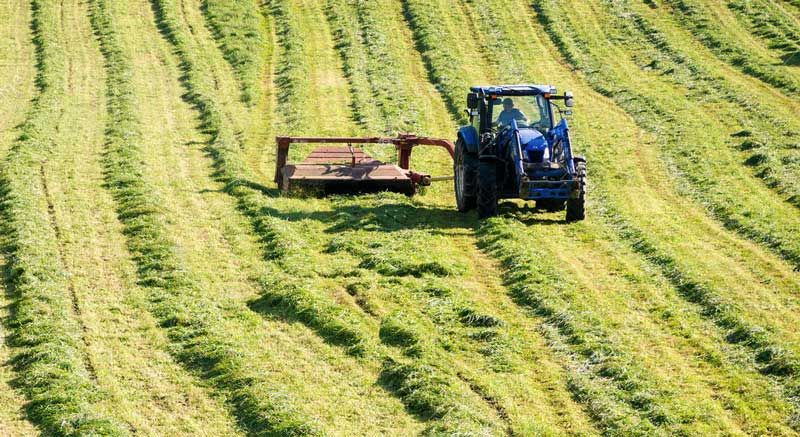 Agriculture is one of our most important industries. It provides food, feed and fuel necessary for our survival. With the global population expected to reach 9 billion by 2050, agricultural production must double to meet the demand. And because of limited arable land, productivity must increase 25% to help meet that goal.
Consider these factoids:
Major US farming conglomerates are buying foreign land and beginning to farm there, citing lower overall cost.
China is buying land in Africa and sending skilled workers to supervise those new farms.
Farmers and ranchers the world over are transitioning to precision agricultural methods, i.e., subdividing their acreage into many sub-plots, in some cases, right down to the individual plant/tree/animal thereby enabling increased productivity and lower overall costs.
Unmanned aerial vehicles are being used to map, observe, sense and spray.
Unmanned (or at least autonomous) ground vehicles are providing more precise movements and thereby enabling precision practices.
The US Bureau of Labor Statistics reports that 2012 median pay for farm workers was $9.09.
The US Bureau of Labor Statistics reports that there were 749,400 ag workers in 2012, down 3% (25,000) from 2011.
74% – approximate number of crop workers in the US who were born in Mexico or Central America, of which more than half are likely to be undocumented (according to Fortune Magazine).
Cropdusters have the 3rd highest fatality rate among professions in the US. 90% of crop spraying in Japan is done using small unmanned helicopters.
Thus the agricultural industry is in transition. And that transition differs country by country, state by state, region by region as well as by type of farming practiced: from primitive to conventional to precision to experimental. A little bit of everything is going on everywhere but the general trend worldwide is toward precision agriculture supplemented by advanced technologies, including robotics.
Many factors are precipitating these changes in addition to global population growth and the cost and availability of labor: the diminishing availability and increasing cost of water, political and regulatory procedures and hold-ups; limited tillable acreage; better, cheaper and faster technological automation products; and climate change, to name just a few.
Modern farmers and ranchers are already high-tech. Digitally-controlled farm implements are regularly in use. There are partially and fully automatic devices for most aspects of agricultural functions from grafting to planting, from harvesting to sorting, packaging and boxing. Farmers use software systems and aerial survey maps and data to guide their field operations. They also use auto-steer systems included in many new tractors (or buy kits that do the same thing) that follow GPS and software guidance. Some farmers are already transitioning some of their operations to full autonomy. Thus forward-thinking farm owners today may be able to skip over slow, incremental improvements and jump directly to robotic and autonomous automation. But are the robots ready?
In a follow-up to my July, 2014 post "Will agricultural robots arrive in time to keep fruit and vegetable costs down?", this article profiles 27 of the many companies (from conglomerates to start-ups) attempting to provide robotic solutions for farming problems and explores what they are doing, when their products will be available, and at what cost.
[NOTE: From a list of 60 organizations involved with agricultural robotics, dairy was eliminated even though robotic milking systems are amazing and a growing business. Also eliminated were companies that didn't (or couldn't because they are publicly traded such as John Deere and CNH Industrial (Case/New Holland)) respond to my brief questionnaire. Further, only one of the many university ag research facilities was profiled even though there's a lot of rich science under development; I wanted to focus on the here and now; not the future.]
Companies Mentioned (sorted by primary function):
Harvesting and Tractors – Tractors provide two things: guidance to the devices they are towing, and pulling power. Current tractors are huge, and if they break down, the entire operation comes to a halt. Autonomous machines don't need operators and can operate around the clock. Thus tight operational windows can be achieved for seeding and other time-sensitive activities.
Planting, Pruning, Potting, Grafting and Nursery Operations
Thinning and Weeding
UAS, Inspection, Data Collection and Data Manipulation – UAVs are only as good as the other precision ag equipment and systems; if there are no computers on the tractors or controllers on the implements towed, and if they can't talk to each other, UAS data they collect are just pretty pictures.
Smart Implements – New implements incorporate advanced control systems and can respond to commands from the towing tractor or provide their own mobility and navigation.
Agriculture is big business in every country around the world. Thus this is a timely review of the progress to bring robotic automation to an already automated industry. Bottom line: lots of activity, much of which will be coming online in the next year or two, but little market penetration thus far.
—————————————————————————
Company Profiles:
Company: ISO Group, a Flier Systems company, Gameren, The Netherlands
Website: www.isogroepmachinebouw.nl
Product: RoBoPlant flower planting robot and fully and semi-autonomous grafting robots

ISO Group's flower planting robot RoBoPlant
Area of use: All over the EU
Function: Semi and full automatic machinery for greenhouse or protected horticulture. Flower planting robotic system takes flats of peat seedlings, separates them and plants them in chosen patterns;
Testing: Continual testing and development
Availability: Began selling products in 2002
Price: N/A
Return to Companies Mentioned Index
Company: Autonomous Tractor, Fargo, ND
Website: http://www.autonomoustractor.com/
Product: Modular cab-less robotic tractor implement platform

Autonomous Implement – Spirit Mower
Area of use: Hay producers in the US
Function: Mowing hay. Can add modular engine power as needed by the type and size of implement. Will expand to other crops and other non-ag industries after mower begins shipping
Testing: Continuously field testing
Availability: Expect to come to market and begin shipping pre-orders in 2016
Price: Price expected to be 1/2 of similarly-powered tractors and implements
Return to Companies Mentioned Index
Company: Blue River Technologies, Sunnyvale, CA
Website: http://www.bluerivert.com/
Product: LettuceBot2 (2nd generation) lettuce thinning

Blue River Technology 3-row LettuceBot2
Area of use: CA and AZ lettuce fields (covers 80% of US lettuce production)
Function: Thinning and weed spraying of iceberg, romaine and leaf lettuce
Testing: Recently completed field testing 3rd generation machine; selective weeding used to improve germination
Availability: Began operating as a per-acre service in 2013
Price: Price per acre depends on the lettuce planting configuration but equates to a slight premium over manual labor costs
Return to Companies Mentioned Index
Company: Agrobot, Huelva, Spain
Website: http://www.agrobot.com/
Product: Agrobot SW6010 and AGSHydro, a bed-on hydroponic growing system customized for strawberry growing and harvesting

Agrobot harvester

Agrobot hydroponic growing system
Area of use: Strawberry harvesting in Oxnard, CA
Function: Ripe berry picking from raised hydroponic growing beds
Testing: Will start final testing strawberry harvesting in January; have done seasonal testing for a few years
Availability: Mid-2015
Price: $250,000 for a harvester with 60 robotic picking arms. Says one large berry farmer: "The Agrobot works on several investment paths.  One where we harvest cheaper than we do today and another where we harvest fruit that there are not sufficient people for.  In the latter case the Agrobot pays off instantly because without the ability to harvest we do not have a business (this is becoming more common)."
Return to Companies Mentioned Index
Company: Agribotix, Boulder, Colorado
Website: http://agribotix.com/
Product: Drone services for precision agriculture

Agribotix Hornet Drone

Agribotix image processing services
Area of use: US Midwest (CO, KA, MO, etc.)
Function: Lease ag drones to co-ops, agronomists, crop consults, farm managers and big industrial farm corporations; produce and process hi-res images and maps using various sensors, and provide prescription maps to match the application of fertilizer to the places that need more (or less)
Testing: Ongoing testing with pilot customers
Availability: Began selling services in 2014
Price: About $8,000 for a season which includes training, drone use, stitched-together RGB and infrared images, crop health and prescription maps. Agribotix offers an image processing services contract with per acre charges for various maps and images over an annual contract period
Return to Companies Mentioned Index
Company: Wall-Ye, Macon, France
Website: http://wall-ye.com
Product: Wall-Ye 1000 mobile pruning robot

Wall-Ye 1000 Pruning Robot
Area of use: French grape vineyards pruning
Function: Autonomous pruning
Testing: Completed in 2013
Availability: For sale and as a service
Price: $30,000 per robot
Return to Companies Mentioned Index
Company: ecoRobotix, Essert-Pittet, Switzerland
Website: http://www.ecorobotix.com/
Product: Lightweight autonomous robots initially for weeding

ecoRobotix concept field robot
Area of use: Field testing in Switzerland; next year in Germany
Function: A robotic platform for weeding of spaced-row cultures, which includes advanced weed recognition algorithms, fast robotic arms, advanced sensor technology, high energy efficiency, and wireless communications
Testing: Currently with sugarbeet but plan to extend to colza, sunflower, corn and soya
Availability: First machines available for sale by end of 2015
Price: About 15'000 EUR ($18,750) per robot
Return to Companies Mentioned Index
Company: Energid, Cambridge, MA
Website: http://www.energid.com/experience/citrus-harvesting/
Product: Citrus harvester

Energid towed multi-arm citrus harvester
Area of use: Florida citrus orchards; oranges (early and late season) and grapefruit
Function: Harvesting, initially for juice
Testing: Will test again during seasons in Florida in 2015 and 2016
Availability: Expect to have initial product in late 2016
Price: System to cost $300,000-$400,000
Return to Companies Mentioned Index
Company: Harvest Automation, North Billerica, MA
Website: http://www.harvestai.com/products
Product: HV-100 mobile robot

Harvest Automation HV-100 Mobile Robot

Harvest Automation potted plant movement schema
Area of use: Nurseries (ornamental, berries, tomatoes, etc.)
Function: Material handling, movement of containers, spacing.
Testing: HV-100 testing completed
Availability: Been selling since 2013
Price: $130,000 for a team of four robots to purchase.  We also rent teams of four for $30K/3 months.  The rental scheme has worked really well.  All who have rented then subsequently purchased.
Return to Companies Mentioned Index
Company: Clearpath Robotics, Kitchener, ON, Canada
Website: http://www.clearpathrobotics.com/grizzly/
Product: Grizzly RUV (cab-less robotic utility vehicle) and Husky UGV

Clearpath Grizzly RUV pulling implement
Area of use: Sold to university research facilities for ag applications development
Function: Harvesting, mowing, hauling, research
Testing: Testing asparagus farming with added laser scanner to identify appropriate stalks and a cutter inserted into the soil to cut the stalk below ground; hauling manure from chicken farms while cleaning out barns; detecting where cows urinate and then treating the area so grass can continue to grow; mowing inbetween orchard rows and hauling (hay/straw wagons back to barn and return so that the farmer doesn't have to stop baling; hauling chemical refills to sprayer locations; hauling manure spreader)
Availability: Early 2015 – at present only selling to academia and research organizations
Price: $12,000 to $100,000 depending on configuration
Return to Companies Mentioned Index
Company: Autonomous Solutions, Petersboro, UT
Website: http://www.asirobots.com/farming/
Product: Forge Robotic Platform, a kit for enabling a skid steer to operate autonomously or remotely controlled

ASI skid steer with cab in vineyard

ASI skid steer cab options

ASI Universal Vehicle Automation Kit
Area of use: Wine vineyards
Function: Mowing and spraying functions
Testing: Running field trials in CA and TX
Availability: Mid-2015
Price: $75,000 – $150,000/unit (includes complete skid steer device and driving kit) depending on skid steer configuration
Return to Companies Mentioned Index
Company: Wageningen UR (University and Research center), Wageningen, The Netherlands and Agritronics, Sint Annaparochie, The Netherlands
Website: http://www.wageningenur.nl/en/Expertise-Services/Research-Institutes/Wageningen-UR-Greenhouse-Horticulture/Research-themes/Advanced-Cultivation-and-Production-Systems/Subthemes/Computer-vision-and-robotics.htm and http://www.agritronics.nl/
Product: Research to supply intelligent systems for high value crops to commercial research partners/vendors

Wageningen UR cucumber harvesting robot
Area of use: Sweet peppers in The Netherlands, apples and grapes in Belgium, canopy spraying in Slovenia and spot spraying in Italy
Function: Harvesting and spraying (spot and canopy)
Testing: Yes, for sweet pepper, in July in a commercial greenhouse; for apples and grapes tests are now completed. For spraying, field tests have been completed. A new harvester, visual quality inspection and vision system for broccoli, is being developed with start-up Agritronics, Sint Annaparochie, The Netherlands
Availability: "This will take several years"
Price: Not available
Return to Companies Mentioned Index
Company: Vision Robotics, San Diego, CA
Website: http://www.visionrobotics.com/
Product: Lettuce Thinner and Grape Vineyard Pruner

Vision Robotics 6-Line Lettuce Thinner

Vision Robotics grapevine pruner
Area of use: California
Function:  Grapevine pruning being tested; lettuce thinner available for sale
Testing: Testing and development for grapevine pruner could be completed in less than 18 months depending on funding
Availability: Lettuce thinner available now; pruner early 2016
Price: Lettuce thinner starts at $140,000 and upwards depending on configuration; pruner will likely sell for same amount
Return to Companies Mentioned Index
Company: Precision Hawk, Raleigh, NC
Website: http://precisionhawk.com/
Product: Lancaster UAV with various plug and play sensor options plus Datamapper

PrecisionHawk Lancaster

PrecisionHawk Lancaster plug-in sensors
Area of use: Ontario, Canada
Function: Providing data for crop researchers, consultants and farmers and ranchers to make farm management decisions
Testing: Performing field tests under an SFOC from Transport Canada for a number of years. The majority of research and development happens in Ontario, Canada. Over the past six months have obtained a number of CoAs from the FAA to perform field tests and research across the United States in conjunction with universities such as NC State, Texas A&M, Kansas State and Cornell.
Availability: 70% of sales are global. Have entered into a number of projects with US companies on foreign soil for specific research projects
Price: Basic Lancaster platform is $15,000 plus sensors and other options
Return to Companies Mentioned Index
Company: F Poulsen Engineering ApS, Hvalso, Denmark
Website: http://www.visionweeding.com
Product: ROBOVATOR thermal and/or hydraulic weeder

Poulsen weeder
Area of use: 30 machines already at work in UK, the EU and Canada.
Function: Weeding and thinning of lettuce, cabbage, fennel and onions
Testing: In California (preceding expansion into North America)
Availability: Started selling in 2011 after 8 years of development
Price: The 5-row version sells in Europe for 80.000€ ($100,000)
Return to Companies Mentioned Index
Company: Kinze Manufacturing, Williamsburg, Iowa and Jaybridge Robotics, Cambridge, MA
Website: http://www.kinze.com/ and http://www.jaybridge.com/
Product: Autonomous vehicle system for row crop harvesting

Kinze autonomous tractor and grain cart
Area of use: Iowa and Illinois corn and soybeans
Function: Autonomously garner row crop grains from combine machines and bring it out of the field to the transport area
Testing: Testing autonomous harvesting system since 2012; in 2013 three farmers in Iowa and Illinois leased systems without Kinze overseeing operation allowing the farmers to use the technology independently. The Kinze system marries off-the-shelf components, including GPS, radar, laser sensors and video cameras, with custom software that allows the system to react to field obstructions. It was developed in partnership with Jaybridge Robotics.
Availability: Kinze is not currently selling the harvesting system but is working towards full commercialization soon
Price: The price has not yet been set for the system which includes the autonomous driving kit for the tractor and grain cart plus the navigation, path planning, harvester communication and control software systems
Return to Companies Mentioned Index
Company: Agrobotics, Little Rock, AR
Website: http://www.agrobotics.com/
Product: AutoProbe soil sampling system

Agrobotics AutoProbe
Area of use: Midwest US farm belt
Function: AutoProbe is a towed device which directs the driving of the towed vehicle to enable consistent, uniform and accurately distanced soil samples. The device is capable of pulling over 2,500 cores per hour
Testing: Tested for 7 years in the Mississippi Delta in the Midwest US
Availability: Available now as both a service and a sale; live demos at various US ag shows
Price: Not available
Return to Companies Mentioned Index
Company: Amazone-Werke Gmbh, Hasbergen, Germany
Website: http://info.amazone.de/DisplayInfo.aspx?id=14033
Product: BoniRob field robot

Amazone-Bosch BoniRob lightweight field robot
Area of use: Work on corn and wheat experimental plots in Germany
Function: Autonomous omnidirectional field robots working in "flocks" for multiple purposes
Testing: Multiple-purpose lightweight robot for weeding, applying fertilizer, inspection being developed with Robert Bosch GmbH
Availability: Only two built; no plans announced for commercialization at this time
Price: No information available
Return to Companies Mentioned Index
Company: Helper Robotech, Gimhae City, Korea
Website: http://helpersys.co.kr/
Product: BoniRob field robot

Helper Robotech fruit and vegetable grafting robot
Area of use: Korea, Japan and China
Function: Grafting is most common in European and Asian countries as well as in greenhouses worldwide where crop rotation is no longer an option and available land is under intense use. Robotic grafting is relatively new although mechanically-assisted grafting has been going on for a long time.
Testing: Unknown
Availability: Available now
Price: Unknown
Return to Companies Mentioned Index
Company: AGCO Fendt, Deluth, GA
Website: http://www.agcocorp.com/GuideConnect.aspx
Product: GuideConnect, SectionControl and VarioGuide

AGCO Fendt GuideConnect – driverless 2nd system

AGCO Fendt VarioGuide auto steering system
Area of use: Global
Function: SectionControl integrates various data and enables fully automatic section control via GNSS for ISOBUS-capable sprayers, spreaders and seeders; the VarioGuide night and day auto steering system; and the new GuideConnect in which two tractors act as a unit where one vehicle is unmanned
Testing: GuideConnect is still under development with no known date or area for availability; the following vehicle doesn't have its own obstacle detection which may be why they haven't yet released the product
Availability: All but GuideConnect are available now in the EU and US
Price: Not available for all 3 systems
Return to Companies Mentioned Index
Company: Rowbot, Minneapolis, MN
Website: http://rowbot.com
Product: Rowbot is a self-driving, multi-use platform that travels between rows of corn, ex: applying nitrogen fertilizer in sync with corn needs. It can also collect sensor data to inform both current and future work. GPS and several sensors keep the robot from trampling the crop

Rowbot in cornfield. Rowbots work in teams to apply nitrogen fertilizer in sync with precision needs
Area of use: US Corn Belt
Function: Rowbot travels between corn rows – often under the leaf canopy – to apply nitrogen fertilizer and also to seed cover crops
Testing: Working in conjunction with Carnegie Robotics on development of the Rowbot.
Availability: Began test marketing this year for in-season nitrogen and cover crop seeding services; plan to widen scope of services in 2015
Price: No information available about the cost of the service
Return to Companies Mentioned Index
Company: senseFly, Cheseaux-Lausanne, Switzerland
Website: http://www.sensefly.com
Product: eBee Ag

senseFly eBee Ag

senseFly eBee Ag autopilot system and carrying case
Area of use: Global
Function: The eBee ag system includes eMotion software and a carrying case. The software and cameras enable 2 cm per pixel resolution and produce 3D maps and overlays as well as the capability to lay out (and simulate) a flight path for up to 45 minutes of flying time
Testing: 
Availability: The eBee ag system is available now
Price: About $12,000 for the complete system
Return to Companies Mentioned Index
Company: Conic Systems, Barcelona, Spain
Website: http://www.conic-system.com/
Product: EMP-300 Grafting Robot

Conic Systems EMP-300 Grafting Robot
Area of use: Global
Function: Enables grafting of vegetables  and other greenhouse plants
Testing: Unknown
Availability: Now
Price: Not available
Return to Companies Mentioned Index
Company: Naio Technologies, Toulouse, France
Website: http://naio-technologies.com/
Product: Naio Technologies Oz field robot

Naio Technologies Oz field robot
Area of use: Mostly in France
Testing: Testing next generation of Oz robot (with improved navigation capabilities) in real field conditions in France
Function: The Oz robot serves as an autonomous electric tractor which can be used for weeding and as a transport from harvesters to accumulation points. Oz operates as a self-powered robotic implement rather than a towed implement
Availability: Began selling in 2013
Price: Initially robots are being rented to help customers get familiarized with the product line and to help optimize the utilization. Units are renting/leasing for $315 to $475 per month depending on configuration
Return to Companies Mentioned Index
Company: Robotic Harvesting, Simi Valley, CA
Website: http://www.roboticharvesting.com
Product: Strawberry harvester, data collector and mobile platform

Robotic Harvesting Strawberry Harvester
Area of use: California
Testing: Ongoing in California
Function: Autonomous mobile device which takes stereovision photos to locate any fruit or vegetable in 3D space and then uses a robot arm to pick and place on a conveyor selected berries
Availability: Unknown
Price: Unknown
Return to Companies Mentioned Index


If you liked this article, you may also be interested in:
See all the latest robotics news on Robohub, or sign up for our weekly newsletter.
tags:
analysis
,
c-Environment-Agriculture
,
cx-Business-Finance
,
robohub focus on agricultural robotics
,
Service Professional Field Robotics Agriculture
---
Frank Tobe
is the owner and publisher of
The Robot Report
, and is also a
panel member
for Robohub's
Robotics by Invitation
series.
Frank Tobe is the owner and publisher of
The Robot Report
, and is also a
panel member
for Robohub's
Robotics by Invitation
series.