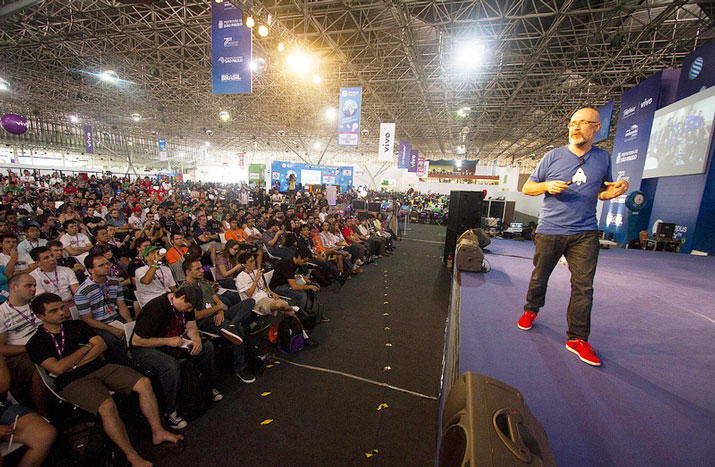 Up to 10,000 young geeks from across Europe will camp out in tents and sleeping bags for five days of intense 24/7 hacking, networking and elbow-rubbing with experts from some of the world's most influential science and tech communities. The main goals of this hands-on event are to debate the biggest issues in digital technologies, and to inspire a new generation of European techpreneurs. Campus Party runs September 2 -7 at the O2 in London.
A massive digital skills marketplace will sit at the heart of the festival, surrounded by dedicated stages for robotics, start-ups, sci-tech, Big Data, social networking, and gaming. Lectures, workshops, competitions and hackathons take place simultaneously.
Two-person tents are set up in a secure area just a few minutes walk away from the tech stages, so that "Campuseros" who want a 24/7 experience can hack to their heart's content.
BBC News coverage of the 2012 Campus Party in Sao Paolo.
Ronan Dunne, CEO of Telefonica (the main sponsor of this year's event) says: "Since 1997 tech fans across Europe and Latin America have flocked to Campus Party in the thousands to innovate, learn and engage with some of the biggest names in technology. This year the marketplace will feature a huge range of free support services, including advice on how to get your foot on the career ladder or how a business can succeed on Facebook. The event will help people hone and develop their digital skills whilst giving businesses of all sizes the opportunity to find the talent they need to grow."
The festival will feature some of the world's most inspirational science and technology communicators. Confirmed speakers include:
 Alex 'Sandy' Pentland, foremost authority on organizational engineering, mobile information systems, and computational social science, and founder and director of the Human Dynamics group and the Media Lab Entrepreneurship Program at MIT.
 Jon "maddog" Hall, pioneer in the world of commercial computing and a globally recognised authority on free and open source software, and 2006 winner of the UK Linux and Open Source Lifetime Recognition Award for his services to the open source community. His latest ambition is Project Cauã.
Nolan Bushnell, founder of Atari Inc. and father of the modern video game industry. Bushnell created the world's first technology incubator, the world's first touchscreen menu ordering and entertainment system, the world's first digital navigation system and the world's first online ordering system.
Find out more information or pre-register at http://www.campus-party.eu/. Members of the Robohub community receive a 20% discount off Campus Party tickets. Businesses and educational organisations keen to be at the Digital Skills Marketplace can email campusparty@telefonica.com for more information.
[Photo credit: Christiano Sant'Anna]
tags:
c-Events
,
Campus Party
,
DIY
,
Event
,
London
,
O2
,
Telefonica
--- Robohub Editors