Re-joining the ranks, Sony announced a return to robotics. Momentum is opening a robot hamburger shop. And Starship is beginning to deliver food to three cities in Europe.
Sony
At a recent stockholders meeting, Sony Chief Executive Kazuo Hirai said that Sony, a conglomerate that has divisions in finance, network services and entertainment in addition to hardware, planned to move toward a more ambitious future and that robotics will play a role in that journey.
"We need to push the envelope to really grow Sony into other parts in all of the electronics business, where we know we could make a difference," Mr. Hirai told The Wall Street Journal, in an interview. "You can have all these great services and content, but there is a device you need to enjoy it, or actually to feed information to the network," he said.
Hirai also said that Sony is planning a new wave of consumer robots that will be able to bond with humans, suggesting that Sony will begin selling a competing line of products to SoftBank Robotics' Pepper home robots, Jibo, and Amazon's Alexa line. Sony already has an extensive electronics line including GoPro and drone add-on gimbals, cameras and other devices.
Years ago, Sony developed the Aibo robotic dog – a charming interactive product that sold 150,000 units from 1999 to 2006. Toward the end, Sony upgraded Aibo to use a camera to recognize its owner and added extra personalities to its repertoire of moves and responses. Competing companies, particularly Dongbu Robot, a Korean company, use newer technology — and lower costs — to offer Aibo-like toy robot dogs.
The business model for new Sony robotic products involves selling a robot that requires a reoccurring subscription service for data and maintenance with frequent software updates, a similar plan to Pepper.
Momentum Machines
A June San Francisco area Craigslist ad advertised for a restaurant generalist to work at a Folsom Street store selling robot-made hamburgers. The store, at 680 Folsom Street, is on the ground floor of a 14-story office building, south of Market Street in the heart of San Francisco.
"This location will feature the world-premiere of our proprietary and remarkable new advances in technology that enable the automatic creation of impossibly delicious burgers at prices everyone can afford. The burgers sold at 680 Folsom will be fresh-ground and grilled to order, served on toasted brioche, and accented by an infinitely personalizable variety of fresh produce, seasonings, and sauces." [Editorial comment: Wow! What a mouthful!]
SF is home to the popular automat-style restaurant Eatsa which takes orders for quinoa bowls via iPad and places them in cubby-holes ready for payment and pickup. The ordering process for Eatsa is to walk up to an iPad and construct and pay for your order whereupon it gets delivered to a cubby earmarked for you. It is likely that Momentum plans something similar for its new as-yet unnamed hamburger store, perhaps with a more personal delivery method combining other items like drinks and fries.
Starship Technologies
Starship, an Estonian startup funded by two of the founders of Skype, has been testing a mobile delivery robot in 12 countries for the last nine months. The devices have traveled 5,000 miles and met over 400,000 people, according to Starship's Marketing and Comms Manager: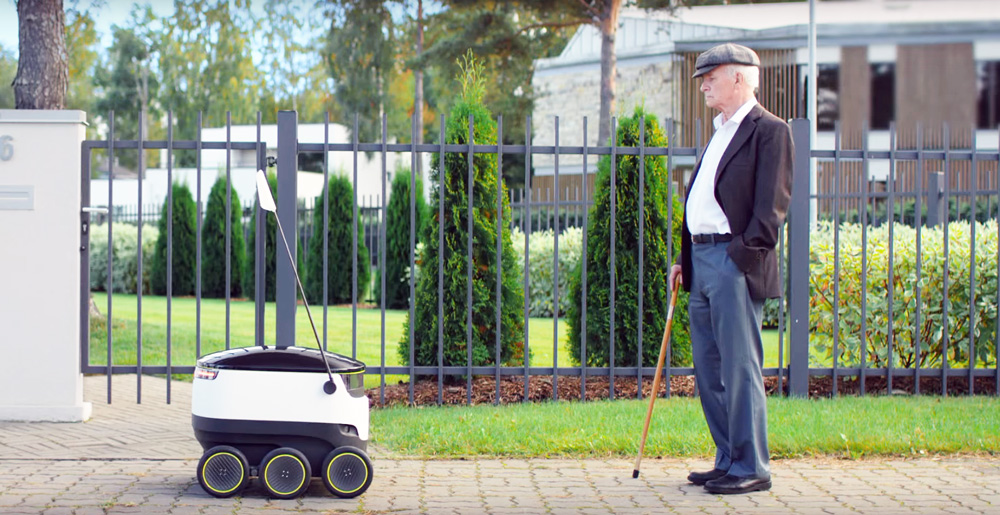 "We have learnt a lot in those 5000 miles of testing!  We learned that 60-65% of people don't pay the robot any attention. The robot integrates in public life a lot easier than we thought it would. The remaining % of people are overwhelmingly positive. We were also, of course, trialing the technology and the reliability of the robots. In all of these tests, we were pleasantly surprised.
The tests were conducted mainly in Tallinn, Estonia and London. We also tested in many other countries including the US, Switzerland, Germany, Belgium, Austria, Spain, etc.
[Regarding our new trial], we haven't changed much, apart from putting more robots onto the streets for testing. We want to increase the number of miles driven on sidewalks around the world to get even more accurate data.  The major difference between our new testing program in UK, Germany and Switzerland is that, for the first time in our history, we are signing up commercial partners like Just Eat. This enables us to enter into a new phase of testing and start doing real world deliveries in real world environments.
[In answer to a question as to the cost of the robot devices] We are a delivery company, and therefore it is unlikely we will be selling the robots. We will be providing a delivery service which includes the robots, the maintenance, the human oversight and everything in-between! All for a monthly fee!"
Starship will be working with London food delivery startup Pronto as well as German parcel company Hermes and the Metro Group of retailers, plus, Just Eat restaurant food delivery to trial on-your-schedule-delivery of packages, groceries and meals.
tags:
c-Business-Finance
,
Frank Tobe
,
Momentum Machines
,
sony
,
Starship Technologies
,
The Robot Report
---
Frank Tobe
is the owner and publisher of
The Robot Report
, and is also a
panel member
for Robohub's
Robotics by Invitation
series.
Frank Tobe is the owner and publisher of
The Robot Report
, and is also a
panel member
for Robohub's
Robotics by Invitation
series.