After a six-month delay to hone the robot for Japanese homes, and a year after the original launch announcement, the Dyson 360 Eye robotic vacuum cleaner has finally gone on sale in stores all over Japan and in Dyson's new flagship retail store in Tokyo.
A recent TechNavio analysis of the residential robotic vacuum cleaner market forecasts a CAGR of 6.43% over the period 2015-2019. Another research firm predicts a 15% growth rate over the same period. Robovacs (as robotic vacuum cleaners for carpets and floors are called) still form a small percentage of the global vacuum cleaner market (18% according to Colin Angle, CEO of iRobot, makers of the Roomba line of robotic vacuum cleaners), but their acceptance is clearly growing at a steady pace.
The Dyson 360 Eye system is novel in that it creates a panoramic 360º view of the room and then navigates by triangulating fixed visible points. The video below shows the navigational process:
Dyson plans to launch the 360 Eye robot vacuum in the US, China and Europe during 2016.
Today, vacuums represent just half of Dyson's $2.1bn in sales. The company's technology pipeline for the next few years includes hiring 3,000 new people, launching 100 new machines and  four brand new product categories — all by 2020.
Advanced robotics will change the world of engineering for good. At Dyson, we've been developing robot technology for over 15 years – 200 engineers, 420 patents and £28m has already gone into our first robot vacuum. But our Dyson 360 Eye™ robot is just the start. The team is advancing the systems that make our robots more intelligent – able to understand environments and navigate with complex sensors and algorithms. The future is robotic.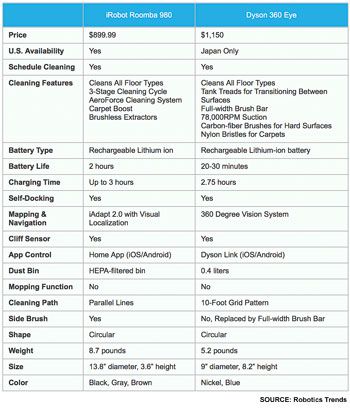 Robotics Trends compared the 360 Eye to iRobot's Roomba 980 in a side by side chart that indicates very similar functionality and high selling price, (the Dyson product is $250 more than the Roomba). Dyson claims it's vacuum generates the highest suction of any robot vacuum. Both have comparable software apps but iRobot claims that the Roomba's low height enables cleaning in places where the Dyson can't go. Also, the vision systems are different, particularly in respect of how they map the area, plan their work and localize where they are.
Only sales figures from the marketplace will tell the real story of how consumers perceive any differences.
tags:
c-Consumer-Household
,
Dyson
,
roomba
---
Frank Tobe
is the owner and publisher of
The Robot Report
, and is also a
panel member
for Robohub's
Robotics by Invitation
series.
Frank Tobe is the owner and publisher of
The Robot Report
, and is also a
panel member
for Robohub's
Robotics by Invitation
series.