For all of us who participated in the Jibo IndieGoGo crowdfunding and are anxiously awaiting delivery – which has been delayed again – this Chinese knock-off came as quite a surprise.
This little Jibo look-alike appears under the brand name Oding with a corresponding website (www.odingbot.com) and a parent company, EDGbot.com. Both companies are registered under a third: HiChina Zhicheng Technology. The odingbot.com website provides a lot of information about their product which is strikingly similar to the content on Jibo's website
HiChina is registered as a wholesale supplier of electronics, apparel, home & garden, and gifts to customers in China.
Neither of the three sites indicate where to purchase a new Oding nor when they will become available or at what price.
---
Knock-offs and intellectual property theft
The Oding bot looks a lot like the original Jibo prototype which had a button up front and a slightly wider base than Jibo's present iteration yet, in an email from Cynthia Breazeal, she affirmed that Odingbot has absolutely no connection with Jibo.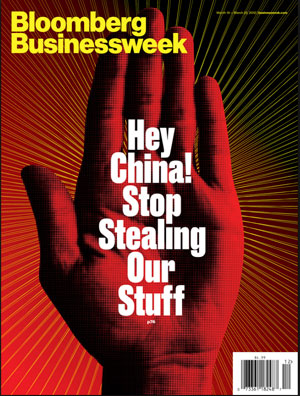 A few years ago Bloomberg Businessweek magazine ran this cover along with a series of stories about stolen technology often copied from plans sent to Chinese contract manufacturers. Those stories appear to be just as true today.
No one should really be surprised. Asian versions of Amazon's Echo and Google's Home have been launched and are already being sold in China. Now there's a Jibo knock-off.
Jibo, the inventor and leader of the pack, just needs to ship. They obviously underestimated what it would take. The cancellation of their developer edition in November is particularly troublesome because no new date was offered. And regarding the consumer edition, for which I am in line waiting, who knows when those will ship.
As Tandy Trower of Hoaloha Robotics, the developer of software and services to support new "socially assistive" robot designs to help people manage day-to-day activities restricted by disease, injury, or aging, said: "This is why I don't show my robot before its ready."
Click here to visit The Robot Report.
---
If you enjoyed this article about robots and jobs, you may also want to read:
See all the latest robotics news on Robohub, or sign up for our weekly newsletter.
tags:
c-Politics-Law-Society
,
cx-Consumer-Household
,
Jibo
,
opinion
---
Frank Tobe
is the owner and publisher of
The Robot Report
, and is also a
panel member
for Robohub's
Robotics by Invitation
series.
Frank Tobe is the owner and publisher of
The Robot Report
, and is also a
panel member
for Robohub's
Robotics by Invitation
series.