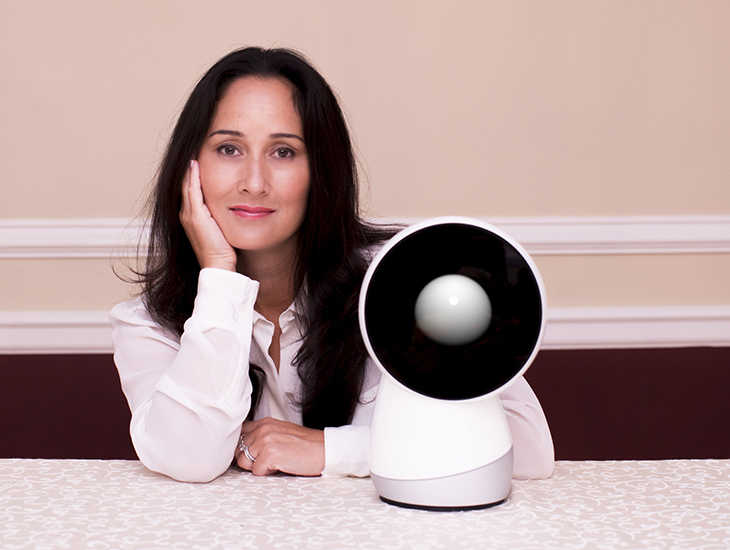 On July 15th, Jibo launched a crowdfunding campaign on Indiegogo with the goal of raising $100,000 towards developing their new social robot for the home. Less than one week later, Jibo surpassed the $1M mark, with hundreds of pre-orders made for both the home and developers editions.
The brainchild of Cynthia Breazeal, Director of MIT's Personal Robots Group, Jibo builds on her earlier work in personal robotics (remember Kismet and Leonardo?), and is designed to be an intelligent assistant and companion for the home. The first developers version – sold out at 250 units – is scheduled to release in Q3 of 2015, while the first home version – sold out at 500 units – is scheduled to release in Q4. Preorders are still being taken for 2016 ship dates for both editions.
"We at Jibo, Inc. are absolutely thrilled by the enthusiastic level of consumer and developer support for Jibo. The public is ready to bring social robots into the home! We also see Jibo as being highly relevant for supporting university research in human-robot interaction through our developer program. Our crowd funding campaign is helping us to build a focused community who we can work with to help make Jibo a groundbreaking product when released in 2015. I would be thrilled to see a strong robotics developer community join us in our journey to bring Jibo to the world." said Breazeal in an email exchange today.
While headlines about Jibo setting new crowdfunding records should probably be taken with a grain of salt (compare Jibo to the top ten business crowdfunding campaigns of all time), no one in the robotics community can deny the excitement of watching Jibo's early success, in particular with the developer community. According to a report by Crowdfund Insider: it took only four hours for the campaign to be fully funded, 33% of pre-orders have been for developer editions, and after only four days, Jibo achieved a Top 10 ranking among Indiegogo's Most Funded Tech Projects of All Time. "They were indeed one of the fastest campaigns to reach $1 million on Indiegogo," said Kate Drane, who leads Indiegogo's Design, Technology and Hardware section.
"Robotics is really coming of age as a consumer product," says Andra Keay, startup expert and Director of Silicon Valley Robotics. "People say hardware is hard, but it's also popular. Nine out of the ten all time top crowdfunded business campaigns have been for hardware and it looks like Jibo is on track to become one of them. It's fantastic to see a robotics startup getting such great visibility because the secret for ongoing success here is not just attracting users but also attracting developers to build new value for the platform … Jibo is an excellent example of how to successfully tell your startup story and I'm looking forward to seeing what's next."
Frank Tobe from The Robot Report agrees: "Jibo is part hype and part hope. But the team is wonderful and spans all the relevant areas needed to fulfill all that was promised. Many companies in this space – particularly the ones that started a couple of years ago – are floundering, struggling with technical problems and lack of money caused by delays. The hope is that Cynthia brings newer technology, the best and brightest team, AND that she has the funding covered. Certainly the IndieGoGo campaign shows consumer interest and adds a lot of extra money to the stash. Still, it will be almost a year and a half before we see JIBO so lets not overhype it now so that anything next year will be anticlimactic."
With so many preorders to fulfill, robotics tech watchers have been left wondering whether Jibo will be able to live up to its promise, especially given the ups and downs of other campaigns that have started off with a big bang but then failed to ship. However, Scott Miller, CEO of Dragon Innovation – another crowdfunding platform that specializes in hardware – says that preorders have their upside too: "Higher volumes do make things easier when it comes to manufacturing as well as follow-on investment." Miller adds that often the real goal with crowdfunding campaigns, especially with a team as experienced as the one Breazeal has brought together, "is to discover product/market fit". Breazeal's focus on building the developer community seems a wise approach to bringing this vision to technical reality.
See. Hear. Learn. Help. Speak. Relate. These are the ways Jibo-the-robot promises to engage with us. All the more reason for Jibo-Inc-the-company to apply the same standards of engagement to their early backers as they move forward, and to hold to their standard that proactive dialogue is key, even when – especially when – there's a problem. And aren't there always a few hiccups along the way?
tags:
c-Consumer-Household
,
crowdfunding
,
Cynthia Breazeal
,
Jibo
,
social robotics
,
startup
---
Hallie Siegel
robotics editor-at-large
Hallie Siegel robotics editor-at-large