Muribot is an affordable, compact robot kit, designed to make coding and robotics easily accessible to people of all ages and skill levels. It packs in quality hardware, usually seen only at universities, and is intended to grow with the ability of the user. This makes Muribot significantly different from robotic platforms that are created for a specific skill level. By bridging the gap to a high-quality learning experience, Muribot aims to be a major competitor in the STEM market and is looking for crowdfunding to achieve that goal.
The robot is pre-loaded with a remote control demo, which means it's possible to play with it right away. Code is written in C, using MPLab IDE, and the Muribot API makes it is simple and easy to get started. Even with no previous experience, you can be coding the tutorials in less than 15 minutes out of the box. More advanced users can begin to control the hardware directly, forgoing the API. Muribot can be used to explore concepts at different levels, from simple line following and odometry to the more advanced design of neural networks and swarm robotics.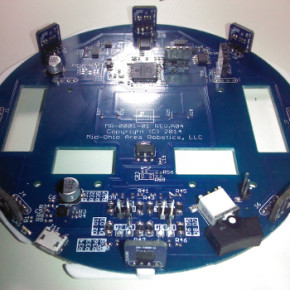 Muribot is designed to make university level hardware affordable and available to everyone. By bringing the cost of a sophisticated platform down to a consumer level, we've produced a tool which will be attractive not only to universities looking to upgrade or replace their current platforms, but also to elementary school students and hobbyists.
The platform is fitted with 25 sensors, including 8 Infrared Proximity and Ambient Light sensors, 3-axis Accelerometer and Magnetometer, Yaw-rate Gyroscope and much more. The internal 900mAh battery takes about 1-2 hours to charge, and provides 6-8 hours of running time per charge. Muribot is part of the FOSS (Free Open-Source Software) and Free Education movement, so is fully open-source and hacker friendly.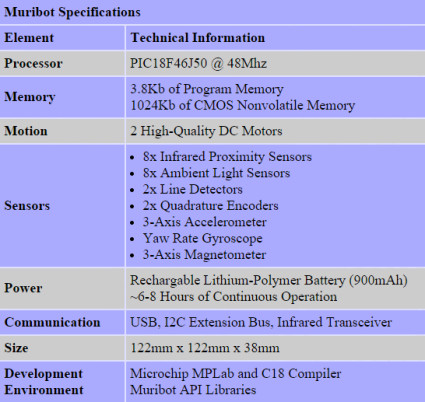 At $250, Muribot costs only a bit more than a Mindstorms NXT and can even be programmed by an eight-year-old. Most other educational platforms on the market today are either extremely expensive, or lacking in features. We wanted to create something that is as useful to an elementary school learner as it is to a university student, enabling people of all ages to explore those fields freely without having to spend a lot of money doing it.
Developers, Mid-Ohio Area Robotics will be performing workshops with Muribot, to help introduce kids to coding, electronics and robotic technologies. The project saw its Kickstarter launch on 1 May, so come and help us make a difference in the world. Your support will help open doors to a whole generation of programmers, scientists, and engineers.
tags:
c-Education-DIY
,
Crowd Funding
,
crowdfunding
,
educational robotics
,
Mid-Ohio Area Robotics
,
Muribot
,
STEM
---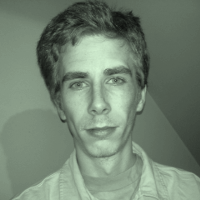 Michael Stone
Founder, CEO and President at Mid-Ohio Area Robotics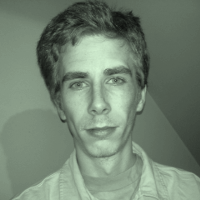 Michael Stone Founder, CEO and President at Mid-Ohio Area Robotics