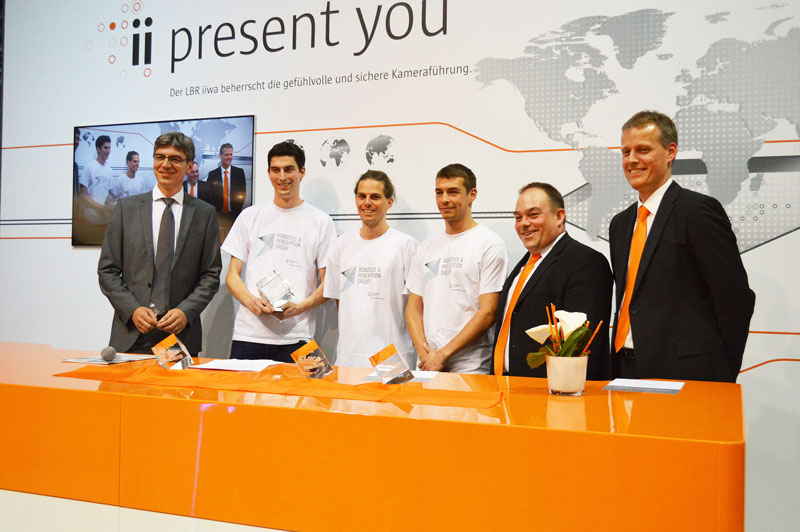 The team collect their award at the Automatica fair in Munich, June 2014.
Four researchers from Davide Scaramuzza's Robotics and Perception Group at the University of Zurich, Switzerland, have won the prestigious KUKA Innovation Award (20.000 EUR) for their project "Collaboration of Flying and Ground Robots for Search-And-Rescue Missions" at the AUTOMATICA trade fair in Munich.
The ongoing project is part of the "Rescue Scenario" of NCCR Robotics, where researchers across Switzerland work together to develop robots that can be used to make disaster relief efforts safer and more efficient. This specific element of the Rescue Scenario involves teams of flying robots working together with ground robots. The idea behind the project is that, in a cluttered environment after a disaster, it may be too dangerous for human rescuers to enter a building, and so robots may be utilized. However, in such environments both flying and ground robots suffer from limitations: by working together, the flying robots can be used as the eye for the ground robot.
For the competition last week, the team presented the collaboration of a quadrotor and a KUKA youBot in a mock-up disaster scenario. The quadrotor is first sent to make a map of the scene, i.e., detecting obstacles and people who need help. Then, it commands the youBot to these people to deliver a first-aid package. From the air, it can tell the youBot where to go and which obstacles to remove on the way.
Have a look at the demo showed at AUTOMATICA!
tags:
AUTOMATICA 2014
,
c-Research-Innovation
,
cx-Military-Defense
,
Davide Scaramuzza
,
KUKA Innovation Award
,
NCCR Robotics
,
search and rescue
,
University of Zurich
---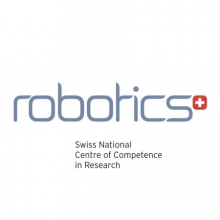 NCCR Robotics