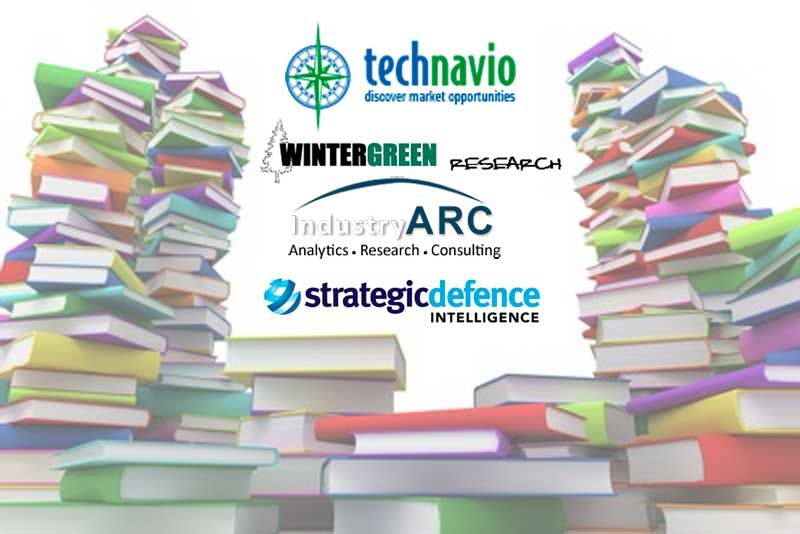 A flurry of robotic research analyses and reports are being sold by a variety of vendors. Most show steady growth rates — and a few project spectacular growth.
TechNavio, a British technology research company, was the company with the most reports — four, each of which costs $2,500:
Strategic Defence Intelligence, also a British company, produced The Global UAV Market 2015-2025, a 218-page report selling for $4,800. Focused on the high-ticket defense and security industries, this report doesn't reflect the growing civilian use of UAS. The report projects the global UAV market to grow at a 5.66% CAGR from 2014 to 2025 with North America and Europe the largest markets and the military drone segment (UCAV— unmanned combat aerial vehicle) to dominate the UAV market. Companies mentioned include AAI Corp, AeroVironment, BAE Systems, BlueBird Aero, Boeing/Cassidian Dassault Aviation, Elbit Systems, General Atomics, Northrop Grumman, Saab, and the Israeli and Korean aerospace agencies.
Frost & Sullivan, a UK company, analyzes the US DoD subset of the global UAV market in their 111-page $7,000 US DoD Unmanned Aerial System Market report. The Department of Defense (DoD) unmanned aerial systems market is transitioning from new systems to providing support and upgrades for existing systems, and consequently there is a diminishing market with intense competition between vendors. The report shows the various segments, constraints and challenges to get limited contracts and funding for the period 2014-2019.
IndustryARC, an Indian firm, is offering Global Warehouse Robotics Market 2015-2020, a $4,250 180-page report that covers robots used for palletizing, replenishment, assembling, disassembling, consolidation, sortation, packaging, labelling, inspection, storage etc., and includes vendors that provide robotic arms, gantry robots, picking carousels, Automatic Guided Vehicles (AGV), robotic forklifts, and palletizers. The report projects a steady growth rate of 11.3% CAGR between 2014 and 2020. Vendors include ABB, Siemens, Kuka, Fanuc, ATS, Adept, Gudel, Kawasaki, Nahi Fujikoshi, Rockwell, Schunk Toshiba, Kiva and Yamaha.
Occam Research, another Indian firm, has the Global Medical Robotics Market by Application and Segment for 2014-2020, a 100-page $5,500 report that provides analysis by segment: surgical robot, rehab robot, telemedicine, assistive robots, orthotics, prosthetics, radio surgery and exoskeletons. Vendors profiled in the report include: Intuitive Surgical, Accuray, MAKO, Mazor, Hansen, Titan Medical, Health Robotics, Agilent, Siemens and Carefusion.
Wintergreen Research, a Boston-based analysis and forecasting company, has also authored a UAV report but this 973-page report is entitled "Commercial Drones: Highways in the Sky, UAS, Market Shares, Strategies and Forecasts, Worldwide, 2015 to 2021" (whew!) and sells for $3,900. Wintergreen projects growth at 34.3% CAGR over the period from 2014 to 2021. Vendors analyzed in the report incude: AeroVironment, Boeing, Draganflyer, Lockheed, Northrop, Textron, Aurora, BAE, Google, Parrot, Schiebel and Textron.
According to Susan Eustis, leader of the team that prepared the study, "Police departments, the oil and gas industry, border patrol, and utilities are all using commercial drones. Units are used for agriculture.  Vendors continue to improve the capabilities of these drone aircraft.Their ability to support the commercial endeavors is increasing. Unmanned aircraft have fundamentally changed the accuracy of utility and oil and gas inspections. They are set to fundamentally change how agriculture is conducted."
And finally, QY Research, a Beijing-based firm, is offering a $3,600 208-page report called Global Vision Guided Robotics Industry Report that studies the current state of the vision-guided robotics industry. The report includes 21 profiles from vendors such as ABB, Bastian Solutions, Denso, Kuka, Siasun, Yaskawa Motoman, Kawasaki, Yaskawa and Teledyne.
tags:
c-Business-Finance
,
Report
---
Frank Tobe
is the owner and publisher of
The Robot Report
, and is also a
panel member
for Robohub's
Robotics by Invitation
series.
Frank Tobe is the owner and publisher of
The Robot Report
, and is also a
panel member
for Robohub's
Robotics by Invitation
series.