ep029
From animals to automation, with Markus Fischer and Victor Zykov
In this episode we look at how FESTO, a worldwide leader in automation technology, has been copying nature to design bionic robots such as artificial penguins, manta-rays or jellyfish. Our first guest, Markus Fischer, is head of Corporate Design at FESTO and expert in transferring technology from biomimetic research to actual products such as grippers. Our second guest, Victor Zykov, finished his PhD and PostDoc at Cornell University in NY on modular robotics. His favorite modules, the Molecubes, are another example of transfer from a bio-inspired systems to FESTO.
Markus Fischer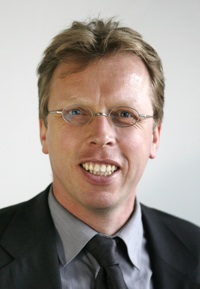 Markus Fischer is the head of the Bionic Learning Network project at FESTO, one of the world's leaders in automation, with thousands of employees around the world and products ranging from solenoids, valves, and cylinders to integrated automation solutions. Recently, FESTO has been exploring the world of mobile robotics, with stunning demonstrators such as the AquaPenguin, AquaRay, AirJelly and many more.
However, creating artificial systems is not the final goal, and Fischer has been looking to identify bionic principles which can be applied to the world of automation in new-generation products. A fulfillment of this endeavor can be found in thier Bionic Tripod which has grippers functioning following the same principles as the AquaPenguins. The concept is based on the Fin Ray® effect by which a fin, when pressed, actually wraps around the point of pressure rather than the intuitive opposite.
Finally, FESTO is also looking at collective robotic systems for inspiration in creating adaptable, robust and flexible systems for the industry.
Victor Zykov
Victor Zykov completed his PhD and PostDoc at Cornell University in NY under the supervision of Hod Lipson. Over the years, he's been looking to create self-repairing and self-reproducing robots resulting in publications in Science and Nature.
Zykov explains the principles of modular robotics and presents one of his favorite building blocks, the Molecube. Molecubes are cubic like modules that are cheap to fabricate and easy to use for newbie roboticists with an online framework at www.molecubes.org. From the labs at Cornell, the Molecubes found their way to FESTO as educational robots. He tells us why modular robotics is of interest to FESTO in building up adaptable factories of the future.
Victor Zykov is now On-Deck Systems Head at the Kite Assist Institute in California.
Links:
---
Latest News:
To learn more about the autonomous shrapnel removing robot, prediction for the personal robotics market and for the most eery version of "Happy Birthday" you've ever heard, have a look at the Robots Forum.