ep125
Giving rights to robots, with Kate Darling
In this episode, we talk with Kate Darling from the MIT Media Lab, about giving rights to social robots. She tells us about a recent Pleo torture session she organized at the LIFT conference and the class she taught at Harvard Law School on "Robot Rights".
Kate Darling


Kate Darling is an Intellectual Property Research Specialist at the MIT Media Lab. She recently wrote a paper on "Extending Legal Rights to Social Robots" where she asks if we should consider protecting robots that connect with us on a social level. In her paper, she says:
Assuming that our society wants to protect animals regardless of their capacities, because of our personal attachments to them, society may well also want to protect social robots regardless of their capacities.
To test our attachment to robot companions, Darling organized a workshop at LIFT which involved torturing and "killing" Pleo dinosaurs.
The task ended up being surprisingly difficult for the participants who had spent time bonding with the robots. In the end, only one Pleo was killed.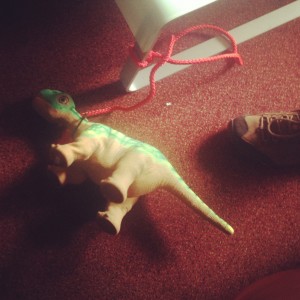 Darling asks if mistreating a social robot could be a precursor sign of abusive personality, and if certain limits should be set on what people should and shouldn't be doing with robots. She tells us about the course she co-taught with Professor Lawrence Lessig at Harvard Law School on "Robot Rights", and the questions legal experts should be tackling in the realm of robotics.
Kate Darling is also a Ph.D. candidate in the field of Intellectual Property and Law & Economics at the ETHZ in Switzerland and holds a law degree (B.A./J.D. equivalent) from the University of Basel, where she graduated with honors in 2008. Her research interests have previously revolved around innovation policy and the economic analysis of copyright and patent law. She gave a related talk at LIFT this year entitled "Innovation Drivers: XXX".
Links: