ep122
Robolution Capital, with Renaud Champion
In this episode Per talks to robotics enthusiast and investment fund manager Renaud Champion. Champion is co-founder of the professional investment fund Robolution Capital, that focuses on investing in service robotics in the European market.
Champion believes that service robotics has great growth potential, both in the professional and the domestic market. With a target of 60 million euros in funding, he is actively trying to promote development by building an effective ecosystem for robotics, including entrepreneurs, investors, advisers and users. In this interview he shares some thoughts on what he looks for in a potential investment, as well as his views on the European robotics market, vs. that in the US and Asia.
Renaud Champion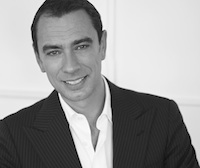 Renaud Champion is co-founder and partner of Robolution Capital, the first investment fund dedicated to Service Robotics in Europe and the first worldwide fund in this sector. He is also an executive director of Syrobo, the French Federation of Service Robotics.
Since 2005, he works closely with the entrepreneur Bruno Bonnell (Infogrames, Atari, Robopolis) to identify future growth centers in the high tech sector. In 2010 he created Primnext, a consulting firm specialized in valuation, risk management, modelling and returns optimization of companies operating in disruptive technologies and services. Primnext's major fields of expertise are Robotics, Cognitive Systems and Artificial Intelligence.
In 1997, Renaud Champion joined the quantitative financial engineering department of BNP Paribas CIB where he was in charge of modelling structured derivatives products on interest rates and equity. From 2001 to 2009, he was the head of equity derivatives trading desks in New York and Paris at BNP Paribas. He managed derivatives portfolios on indices, stocks and hedge funds.
Renaud Champion holds an MS degree in electrical engineering with emphasis on mathematics and signal processing (SUPELEC, University of Michigan).
Links: