ep103
Robopocalypse, with Daniel Wilson
In this episode we talk to New York Times best selling author Daniel Wilson about one of his latest books, Robopocalypse.
Daniel H. Wilson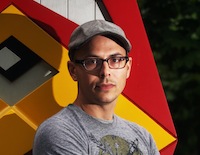 Daniel Wilson is a roboticist turned novelist. His PhD in robotics from Carnegie Mellon University set him on a path to success, with inside knowledge about robot capabilities leading him to write his first book in 2005 about How to Survive a Robot Uprising. In this interview he gives us an update on his more recent books since we talked in 2007. In particular, we dive into his latest thriller recently released in paperback, Robopocalypse. Here is the plot from Wilson's website:
Not far into our future, the dazzling technology that runs our world turns against us. Controlled by a childlike—yet massively powerful—artificial intelligence known as Archos, the global network of machines on which our world has grown dependent suddenly becomes an implacable, deadly foe. At Zero Hour—the moment the robots attack—the human race is almost annihilated, but as its scattered remnants regroup, humanity for the first time unites in a determined effort to fight back. This is the oral history of that conflict, told by an international cast of survivors who experienced this long and bloody confrontation with the machines. Brilliantly conceived and amazingly detailed, Robopocalypse is an action-packed epic with chilling implications about the real technology that surrounds us.

It's the robots' world, we just live in itfor now.
The novel is currently being adapted to the big screen by Steven Spielberg, and is scheduled for release on July 4th 2013. Daniel's next novel, Amped, will be released by Doubleday on June 5th, 2012. In the mean time, you can already follow its main character, Samantha Blex, on Facebook and twitter.
Links: