ep030
Soft machines, with Richard Jones
In this episode we interview Richard Jones, Professor of Physics at the University of Sheffield in the UK, on the future nanorobots inspired from biology: Soft Machines. After listening in, be sure to let us know if you think the frontier between robots and living systems will be inexistent in the future on this week's poll.
Richard Jones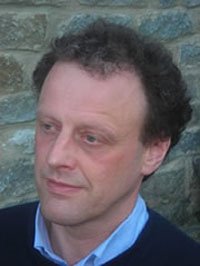 Richard Jones is the author of the book Soft Machines: nanotechnology and life and a blog on the subject also named Soft Machines. From the University of Sheffield in the UK, where he is Professor of Physics, Jones has been looking at how to make nanoscale robots which can eventually be used in the body for medical applications such as precise drug delivery for cancer patients. But instead of shrinking existent technology like in the Fantastic Voyage, Jones is looking at the completely different phenomenons which take place at the nanoscale, such as Brownian motion, to design devices and systems made on the molecular level. As a result, he's diving into the world of biology for inspiration in making robots that can move, communicate and self-power. Instead of the more classical actuators, sensors and batteries we're used to, he's looking at molecular motors and chemical energy and communication.
Poll
More discussions on this topic on our forum.
Links:
---
Latest News:
For more information and discussion on this week's news, including pictures and videos of Tokyo's giant Gundam robot, robot recession in Japan and pictures and videos of Aerovironment's flapping wing UAV, visit the Robots Forum.