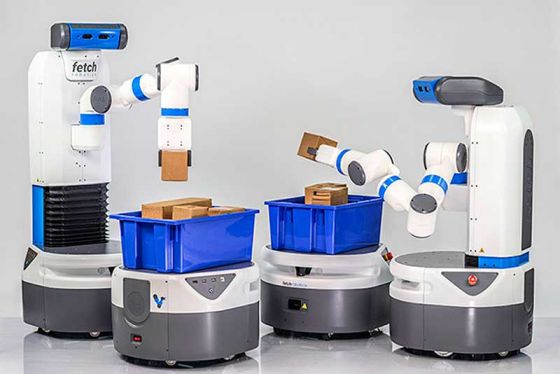 Fetch Robotics, which just demo'd their Fetch and Freight robot system at ICRA in May, announced receiving $20 million from SoftBank, O'Reilly AlphaTech and Shasta Ventures.
The Series A round of funding brings their total funding to date to $23 million. SoftBank was the lead investor in the round. SoftBank, a Tokyo-based phone and Internet service provider, recently invested $100M in Aldebaran, the developer of the popular Nao robot. As part of their deal, SoftBank commissioned the new Pepper robot, which is now being rolled out in Japan. Aldebaran and Pepper are SoftBank's first and second foray into robotics; Fetch Robotics is their third.
"As businesses look for solutions to streamline operations and meet the needs of an on-demand economy, we see a tremendous opportunity for robotics to solve that problem," says Kabir Misra, Managing Director at SoftBank Group US, Inc. "The team, the robots, and the timing all lead us to Fetch Robotics and we are happy to join them in bringing Fetch and Freight to market."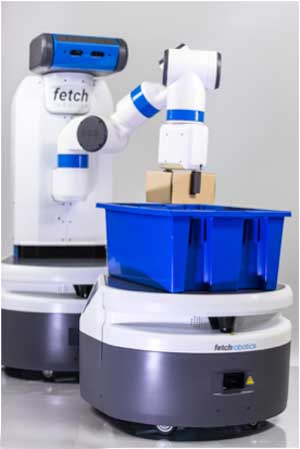 Fetch Robotics, a San Jose startup, unveiled their mobile manipulator and mobile platform (Fetch and Freight respectively) to wide acclaim at ICRA in Seattle last month. The Fetch team has a colorful history first as a spinoff from Willow Garage called Unbounded Robotics charged with making a low-cost version of Willow Garage's PR2 robot. They succeeded with an orange, white and grey one-armed mobile robot that they could build and sell for $35,000 compared to the PR2's $250,000+ cost. That operation failed to get agreeable funding terms and folded but the team went on to work with FYS Systems (fetch your stuff), which was recently renamed to Fetch Robotics.
The Fetch Robotics system is composed of a mobile base (called Freight) and an advanced mobile manipulator (called Fetch).  Fetch and Freight can autonomously find and use a charging dock for continuous operations. In addition, the system includes accompanying software to support the robots and integrate with the warehouse environment. Both robots are built upon the open source robot operating system, ROS.
The robots are designed to work autonomously alongside workers, performing repetitive tasks such as warehouse delivery, pick and pack, and more.  Fetch and Freight used in tandem are capable of handling a vast range of items in a typical warehouse.
"I'm delighted to have SoftBank join the team and help us change the world of logistics and material handling," said Melonee Wise, CEO of Fetch Robotics. "SoftBank's expertise and worldwide resources with respect to technology, production, distribution and more will be a big help to our growing organization."
---
If you liked this article, you may also be interested in:
See all the latest robotics news on Robohub, or sign up for our weekly newsletter.
tags:
c-Business-Finance
,
cx-Industrial-Automation
,
Fetch Robotics
,
Melonee Wise
---
Frank Tobe
is the owner and publisher of
The Robot Report
, and is also a
panel member
for Robohub's
Robotics by Invitation
series.
Frank Tobe is the owner and publisher of
The Robot Report
, and is also a
panel member
for Robohub's
Robotics by Invitation
series.