Robot manufacturing started in the US in 1961 when 26 Unimates – the first industrial robots – were made and deployed at a GM factory in Ewing, NJ. But, over the years, manufacturing and manufacturers have moved offshore. Until now.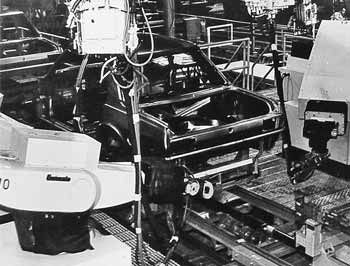 In fact, the industrial side of the global robotics business has become an offshore enterprise, mostly headquartered in Europe and Japan. The business model has been to set up regional sales and service offices and develop a network of integrators, distributors and value-added resellers. Recently however, some of those manufacturers have begun to produce in-country for a variety of economic and political reasons. Kuka began operating a large manufacturing plant near Shanghai in 2014. Yaskawa began manufacturing at their Changzhou factory in 2013. And now, with this move by ABB, robot manufacturing on a big scale will return to the US.
The United States is ABB's largest market with $7.5 billion in sales. ABB has invested more than $10 billion in local R&D, capital expenditure and acquisitions, increasing in-country employment from 11,500 to the present total. With this new factory, ABB now employs 26,300 in the US.
"Today, we are marking and celebrating the next stage of our commitment and growth in North America with the start of local robot manufacturing in Auburn Hills, US," said ABB CEO Ulrich Spiesshofer. "ABB is the first global automation company to open a robot manufacturing facility in the United States. Robotics is a fundamental enabler of the next level of North American industrial growth in an increasingly competitive world. With our continued commitment and investment, our local team is well positioned to support our customers with robotics solutions made in the United States. Our leading technology of web-enabled, collaborative and safe robots will contribute to job security and quality of work."
Products manufactured at the new facility will expand in phases. The goal is that most ABB robots and controllers, delivered in the U.S., Canada and Mexico, will be manufactured in Auburn Hills to streamline the delivery process and reduce lead times for customers.
BOTTOM LINE: The number of robots produced and being deployed is growing rapidly, particularly as their cost is lowered and their functionality is enhanced. ABB recently launched their new two-armed collaborative model YuMi, and also acquired gomTec, a startup with a one-armed collaborative robot. As these new lower-cost robots hit stride and become accepted in industrial factories and shops, the number of units sold will grow exponentially, hence having a manufacturing facility in one of the principle marketplaces (the US) makes good sense.
tags:
ABB
,
c-Industrial-Automation
,
cx-Business-Finance
,
industrial robotics
,
manufacturing
---
Frank Tobe
is the owner and publisher of
The Robot Report
, and is also a
panel member
for Robohub's
Robotics by Invitation
series.
Frank Tobe is the owner and publisher of
The Robot Report
, and is also a
panel member
for Robohub's
Robotics by Invitation
series.