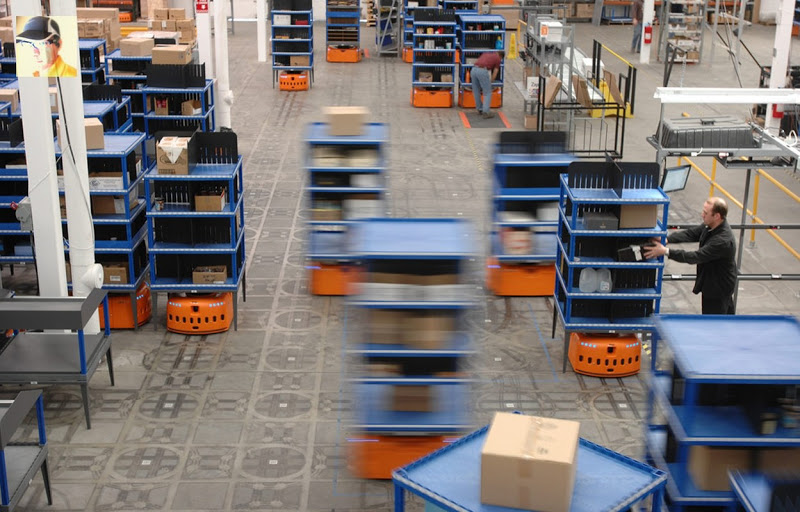 Amazon announced that at the end of September they had 30,000 Kiva robots at work in 13 fulfillment centers, effectively doubling the number of Kiva bots that it had in 2014. "Our intent is to use [Kiva robots and the Amazon Robotics subsidiary] more widely, so stay tuned."
UPDATE 11-1-2015: Added Grenzebach's G-Com storage and picking system to the list of vendors offering competing systems to Kiva's.
Phil Hardin, Amazon's director of investor relations also said:
The wider use of robots at fulfillment centers has had a direct impact on productivity. It's a bit of an investment that has implications for a lot of elements of our cost structure, but we're happy with Kiva. It has been a great innovation for us, and we think it makes the warehouse jobs better, and we think it makes our warehouses more productive.
Amazon acquired Kiva Systems for $775 million in 2012 and recently renamed it Amazon Robotics. It is now a wholly owned subsidiary of Amazon. This left a big gap in the marketplace for robotic innovation in distribution and fulfillment centers because Kiva's goods-to-man technology was taken in house by Amazon.
Distribution centers (also referred to as warehouses, DCs, fulfillment centers and package handling centers) are principal parts of the order processing and fulfillment process. As the e-commerce boom continues to grow, warehouse managers need to find new suppliers to meet their automation needs for their DCs. Amazon is just one of many online e-commerce providers in need of robots and automation; Alibaba and Jingdong in China and Flipkart and Snapdeal in India are also big e-commerce companies adding robots to their warehouses.
eCommerce is the fastest growing segment of retail. In 2013 it represented less than 10% of overall retail, but has been growing at nearly 15% annually and is expected to continue at that rate for the remainder of the decade. Online retailers are having to change their operations to meet this growing demand.
A few startups are beginning to enter the market to fill the gap left by Kiva: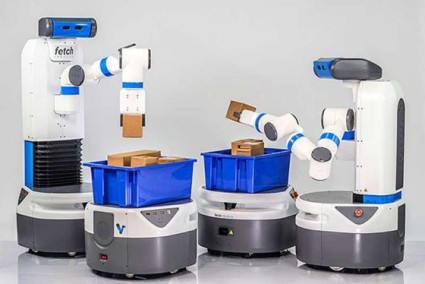 Fetch Robotics, a Silicon Valley startup, recently received $23 million in equity funding from SoftBank to scale up operations. The Fetch robot is a mobile manipulator that can be autonomously deployed to pick orders and place items into a pod on the companion Freight robot, which then autonomously navigates to a packing station. Multiple Freight robots can support Fetch robots and all are coordinated and monitored by a real-time web-based communications and information system that allows warehouse managers to know where robots are, how orders are being fulfilled and inventory status.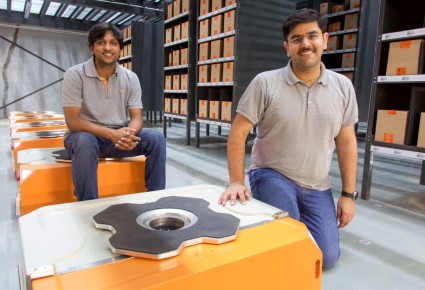 GreyOrange, a Singapore-based Indian startup, is beginning to distribute their Butler robots — square versions of Kiva's round robots — along with their goods-to-man warehousing system, which is also very similar to Kiva's system of moving portable shelving to a picker/packer station for picking and then returning them to a dynamic warehouse location. GreyOrange offers exactly the same process and sells the mobile robots, mobile storage units, pick/put stations, charging devices and warehouse control system. GreyOrange received a $30 million equity investment from a group of VCs to enable international expansion to Japan and China, and hire 25 additional people in Hong Kong and Singapore.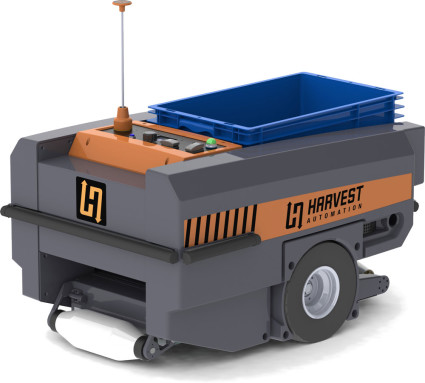 Harvest Automation, a startup initially focused on moving potted plants from one location to another — a very labor-intensive task in the nursery segment of the agriculture industry. Their HV-100 mobile robots reduce labor headcount and costs and provide needed pot manipulation at very low cost. Now that Harvest Automation has mastered the task and successfully brought their product to market, they are expanding into the warehouse with their new TM-100 mobile material handling platform. The rugged TM-100 enables workers to pick and place goods in a cart, which then autonomously whisks off and navigates to a selected destination for further processing.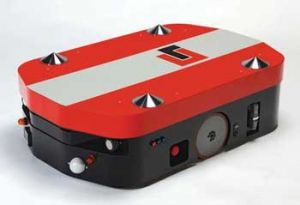 In addition to the startups mentioned above, old-line companies are also entering the market. The 55-year old German-headquartered Grenzebach Group is a good example. Grenzebach has held interests in KUKA, Inos Automation, SnoxStellar AGVs, and Swisslog – all involved in robotics, vision systems and materials handling as well as their new G-Com mobile storage and picking system. Grenzebach is still the controlling partner in all but KUKA and Swisslog. [KUKA bought back it's shares from Grenzebach and acquired Swisslog for $357m in September, 2014.] BLG Logistics was awarded the German Logistics Award 2015 for an installation in the warehouse of a trading company of 74 Grenzebach G-Com robots, delivering goods from 800 shelves to five picking stations.
Bottom line
Amazon isn't the only e-commerce warehouse operator adding robots to their automation arsenal. Think Coca Cola, Walmart, Nike, Ikea, FedEx, and UPS. And there are hundreds of name-brand suppliers of warehousing automation technology such as Westfalia, Egemin, Schaefer, Swisslog, Vanderlande, Daifuku, Intelligrated, JBT, Knapp and Thiele to name just a few. There is a transition in technology to reduce fixed racking and conveyor costs in favor of dynamic storage and mobility methods. Thus far only Kiva and these new startups are offering that level of disruptive system, but the big companies are sure to enter the fray soon with competing products.
---
If you liked this article, you may also be interested in:
See all the latest robotics news on Robohub, or sign up for our weekly newsletter.
tags:
Amazon
,
c-Industrial-Automation
,
cx-Business-Finance
,
Fetch Robotics
,
Grey Orange
,
Harvest Automation
,
Kiva Systems
,
warehouse automation
---
Frank Tobe
is the owner and publisher of
The Robot Report
, and is also a
panel member
for Robohub's
Robotics by Invitation
series.
Frank Tobe is the owner and publisher of
The Robot Report
, and is also a
panel member
for Robohub's
Robotics by Invitation
series.