ep155
Zero Tillage Robotics, with Peter Corke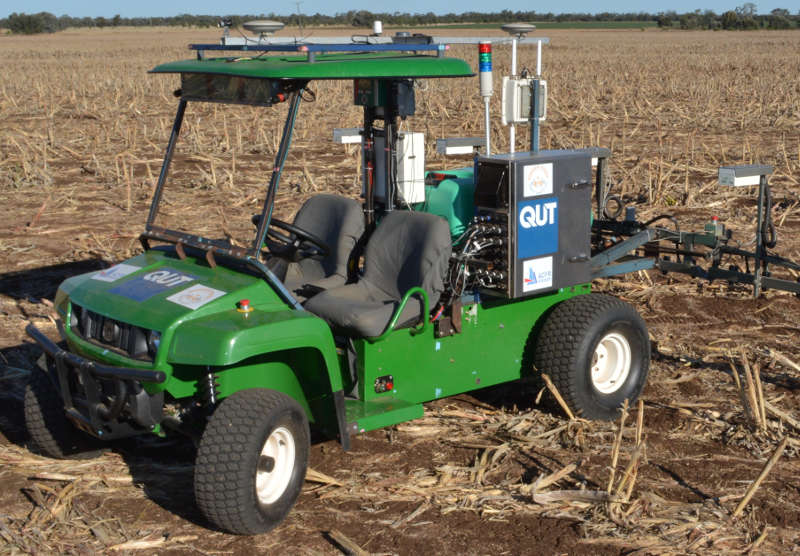 In this episode, Ron Vanderkley speaks with Professor Peter Corke from Queensland University of Technology, about the fast-tracking research that will see robots planting, weeding, maintaining and harvesting crops. The AgBot is a light-weight, golf buggy-sized robot that has been specifically designed to reduce the environmental impact of weeding. It can navigate wheat farms of around 4000 hectares using low-cost sensors, targeting weeds with spray while they are still very young plants. The Chief Investigators are Peter Corke, Ben Upcroft, Gordon Wyeth and Salah Sukkarieh (ACFR) with Partner Investigator Andrew Bate from SwarmFarm.
Peter Corke

Peter Corke joined Queensland University of Technology at the start of 2010 and is known for his research in vision-based robot control, field robotics and wireless sensor networks. He received a B.Eng and M.Eng.Sc. degrees, both in Electrical Engineering, and a PhD in Mechanical and Manufacturing Engineering, all from the University of Melbourne. Prior to QUT he was a senior principal research scientist at CSIRO where he founded the Autonomous Systems Laboratory, a 50-person team undertaking research in mining, ground, aerial and underwater robotics, as well as sensor networks. He subsequently led a major cross-organizational "capability platform" in wireless sensor networks.
Links:
follow Robohub Podcast:
about Robohub Podcast:
Robots Podcast is a non-profit robotics podcast where we interview experts in robotics, including researchers, entrepreneurs, policy makers, and venture capitalists. Our interviewers are researchers, entrepreneurs, and engineers involved in robotics. Our interviews are technical and, often, get into the details of what we are discussing, but we make an effort to have our interviews understandable to a general audience.
read more