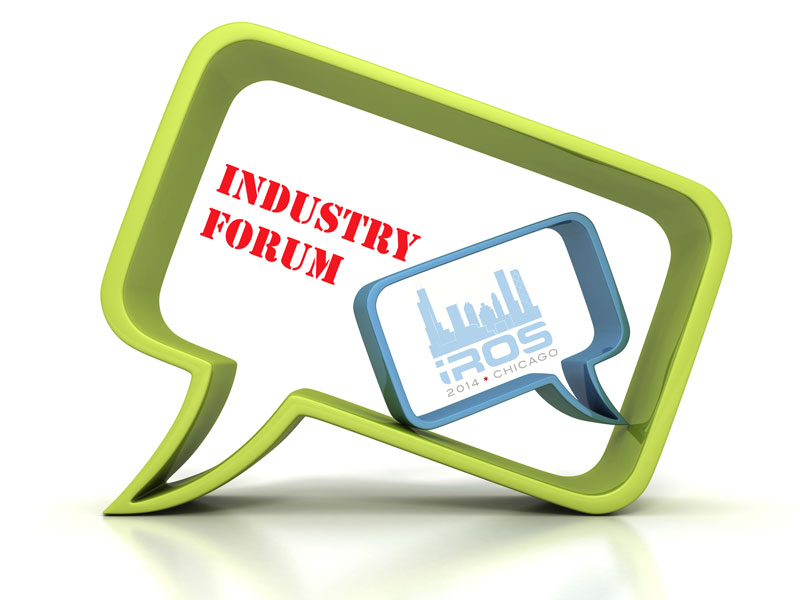 How do I get to MVP? How do I take my existing technology to a different market? How do I attract outside funding for my idea? Does IP matter? (The answer to the last question is yes, although researchers value it much more than venture capitalists.)
The IROS 2014 Industry Forum brought together entrepreneurs, researchers, venture capitalists and funding agencies from North America, Europe, Asia and Australia to shed perspective on the above questions and engage in open dialogue about some of the pitfalls of commercializing robotics technology. Here are the 10 best quotes from the event …

1. "Testing nothing and testing everything are equally lazy."
– Ryan Gariepy, Clearpath Robotics
Gariepy refers to the extremes some startups take before launching a new product. He instead suggests evaluating the technologies, processes and people that can be reused efficiently, then taking a decisive step to engage your customer.
2. "Competition is not other companies or technologies, it's the status quo."
– Ryan Gariepy, Clearpath Robotics
Academics, consumed with dissecting the research of predecessors, colleagues and other institutions, then publishing novel work, naturally look to see what others of doing in the field to gauge their own progress. To academics looking to commercialize research, Gariepy says it's important to know what's out there but also to run your own race. When launching a new product, you need to focus on market first, then technology.
3. "Cheaply eliminate bad business models fast." 
– Lee Redden, Blue River Technology
Before building their first product, Redden and team hired five part-time interns to talk with potential customers, and eliminated five poor business models in less than a month.  CarrotBot, a weeder for carrot farms, came about after talking with an IT procurement manager at a carrot farm who had struggled with finding the right technology for their particular problem. Redden also notes that if you want honest feedback from potential customers, make them feel comfortable by sharing the flaws of your product upfront and don't show up with a perfect prototype – most people are hard-wired to protect the feelings of those they interact with, so you have to disarm them to get honest answers. "Cheaply eliminate bad business models fast." – Lee Redden, Blue River Technology
4. "Sometimes what the company wants and what the community wants are not perfectly aligned."  
– Brandon Basso, 3D Robotics
Balancing of the vision of the company with the wants of an open-source community can be tricky. The 3D Robotics (3DR) community wants breadth – more hardware, sensor and platform support – whereas the company wants depth to support the community while developing native system apps and more hardware solutions. Challenges arise when a growing company has to execute on set product and revenue objectives defined by management (and in 3DR's case, venture capital stakeholders) while integrating the community's feedback into their product suite. Long-term, this relationship creates a virtuous cycle. The community provides 3DR with an on-demand workforce, tech support via developer list, rapid exploration of new opportunities and a huge beta test group. 3DR gives back to the community through cheaper and faster hardware, expertise, capital, support and worldwide distribution.
5. "The robot revolution will be an evolution."
– Christopher Parlitz, SCHUNK
According to Parlitz, the integration of components is the new challenge in robotics. Without standards in place for mechanical and electrical components or transfer of data, creating intelligent systems will take time. He talks of Programmable Logic Controllers (PLCs) and ROS as two solutions for integrating hardware components, each with its list of pros and cons. As new integrated intelligent solutions start working robustly, they will no longer be considered "robots", making the progression much more of an evolution than a revolution. "The robot revolution will be an evolution." – Christopher Parlitz, @SCHUNKInc
6. "If I lose control of my startup, my invention won't wind up at a fire sale." 
– Michael Peshkin, Northwestern University
IP. IP. IP. Intellectual property dominated this year's industry discussion. Each university's tech transfer office has its own rules – some grant both faculty and student inventors full ownership, others to students but not to faculty, and then there are jointly-owned inventions between university and industry (Renaud Champion, a venture capital partner at Robolution warns researchers against these). Emotions and the perceived value of owning intellectual property can often outweigh its real monetary and practical benefits. Peshkin speaks to this point and outlines six key reasons why he prefers Northwestern University's technology transfer office to own his patents:
They pay the expenses, which can cost hundreds of thousands of dollars
If they don't want to pay, they unambiguously turn the rights over
Future investors shouldn't worry about IP ownership
They take a reasonable percent of royalties and/or equity
They won't ever sell a patent
7. "If there are people with pitchforks at your door, you're probably doing something right." 
– Shahin Farshchi, Lux Capital
In addition to IP, regulations (or lack thereof) of certain robotics products create an uncertain environment for commercializing technology. Farshchi says focus on building a company with a clear value proposition that customers want. If regulatory bodies want to speak with you, it's probably because you've taken enough market share to draw attention. And as a first mover, you'll more likely have the opportunity to shape regulation which will put you in a favorable position going forward.
8. "Good research doesn't necessarily mean a good product."
– Ayanna Howard, Zyrobotics
People buy things that are useful to them and shifting focus from product specs to selling a value proposition can stumble some researchers. That's why Howard says it's important to be self-aware and know when it's time to bring in outside expertise. She sees the quality of management as being just as important – if not more important – than the technology itself.
9. "If I have competition, there's a market, if there's a market, there's an industry, and if there's an industry, there's liquidity."
– Renaud Champion, Robolution Capital
Competition is not always a good thing, but in a nascent market for robotics products, it can be great. Competition means there's enough market demand for several products to compete with one another and from a venture capitalist's point of view that means there's room for growth and potential exit opportunities.
10. "I have a dream. I have a vision. Why not me?" 
– Renaud Champion, Robolution Capital
At some point, starting a new business takes a leap of faith. Dreams can take a long time to manifest. Finding the right (or sometimes good-enough) answers to build a solid vision, a product, a team, a brand and convince customer and investors that your product can bring value to the community is tedious and was compared to a rollercoaster ride by many of entrepreneurs at the forum.  But this process, which almost always transforms the entrepreneur (and if they're lucky, an entire industry), often starts with a simple question: "Why not me?" "I have a dream. I have a vision. Why not me?" – Renaud Champion, Robolution Capital
Follow all of our IROS 2014 coverage here.
tags:
3D Robotics
,
Ayanna Howard
,
Blue River Technology
,
Brandon Basso
,
c-Events
,
Christopher Parlitz
,
Clearpath Robotics
,
cx-Business-Finance
,
IROS 2014
,
Lee Redden
,
Lux Capital
,
Michael Peshkin
,
Northwestern University
,
Renaud Champion
,
Robolution Capital
,
ROBOTICS INDUSTRY
,
Ryan Gariepy
,
SCHUNK
,
Shahin Farshchi
,
startups
,
Zyrobotics
---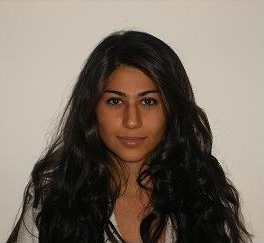 Shima Rayej