Apple, Amazon and now Google: It's a pretty exciting day for robotics!
by
Frank Tobe
14 December 2013
---
share this: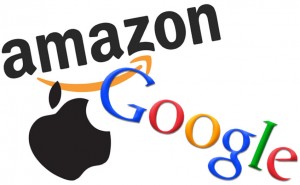 There is serious momentum in robotics these days, evidenced by recent news from Apple, Amazon and Google:
Apple announced that they were investing $10.5 billion in supply chain robots and automation equipment and recently confirmed their acquisition of PrimeSense for $350 million (PrimeSense is the developer of the Kinnect 3D system used by MS Xbox)..
Amazon, in a CBS 60 Minutes piece aired last Sunday, displayed a new concept delivery system using an octocopter. Remember that in 2012 Amazon spent $750 million to acquire Kiva Systems, the robot technology enabling robotically-delivered goods to a picker/packer.
And now Google has set up a robotics division headed by the man behind the Android operating system, Andy Rubin. In Rubin's first six months he has acquired seven robotic companies to jump start his new operation.

UPDATE 12-14-13: Google confirms its eighth acquisition: Boston Dynamics. The new acquisition is an engineering company that specializes in building dynamic robots and software for human simulation. The acquisition adds 80+ technicians, engineers and scientists to the new Google Robots Division talent pool – plus a new location.
What does it all mean?
First, some details.

Andy Rubin and Meka robot.
Markoff says: "The deal is also the clearest indication yet that Google is intent on building a new class of autonomous systems that might do anything from warehouse work to package delivery and even elder care."
Boston Dynamics, a 1992 spin-off from MIT, has been a great resource for youTube videos of wild robots. Their Big Dog video has been watched by more than 15 million viewers; their ATLAS robot video, the base robot given to the DARPA Robotics Challenge teams – a challenge to speed development of robotics technology for disaster response – has already passed the 2.5 million mark.
This is not an insignificant acquisiton. An ongoing business employing 80+ highly paid engineers and scientists has to have cost Google a very high amount, perhaps in the low 9 figures.
Boston Dynamic's CEO and founder Marc Raibert was quoted in the article: "I am excited by Andy and Google's ability to think very, very big, with the resources to make it happen."

What does all this mean?

I think the yellow highlighted quote from Brian Gerkey sums up all these investments nicely: it's a pretty exciting day for robotics when Google, Apple and Amazon ALL invest in robots and robotics. Others are likely to follow spurring further investment and innovation. Up until now, the big four of industrial robotics (KUKA, Fanuc, ABB and Yaskawa Motoman) were all foreign firms while two smaller American firms (iRobot and Intuitive Surgical) led the emerging service new-tech robotics sector. The remainder of this decade will be filled with amazing new robotics products from a variety of new providers — including Apple, Amazon and Google.



tags: Amazon, Apple, Boston Dynamics, Brian Gerkey, c-Business-Finance, Google, Jeff Bezos, robotics



---

Frank Tobe

is the owner and publisher of

The Robot Report

, and is also a

panel member

for Robohub's

Robotics by Invitation

series.

Frank Tobe is the owner and publisher of

The Robot Report

, and is also a

panel member

for Robohub's

Robotics by Invitation

series.
---