GreyOrange, an India and Singapore-based materials handling startup, has received $30m in equity funding to ramp up production of their Butler shelves-to-picker robot system.
GreyOrange currently has more than 300 employees, a number it plans to double with this new funding. The company has two products: a package sorter and Butler.
Butler is a square version of the circular orange-colored robotic system that Amazon acquired from Kiva Systems in 2012. The Kiva process had proven invaluable in speeding up the transportation of goods from the warehouse, dynamically storing them for best access and shuttlling them to pick and pack work stations — all reasons why Amazon evaluated and then purchased Kiva for their internal use. The Butler version purports to do the same set of tasks. GreyOrange's list of clients are distribution center-based and include Flipkart, the Indian version of Amazon, Amazon India and Delhivery, an integrator and provider of distribution center systems throughout India.
Two questions come to mind about the GreyOrange funding:
Why was it needed?
Does their technology infringe upon Kiva's and Amazon's?
Kiva Systems and Universal Robots were, and still are, two robotics stars robotics. They both sold for phenomenal amounts and they were both predominantly funded from their rapidly growing sales.
Kiva Systems, which sold to Amazon for $775m in 2012, had previously received $18.1m in three rounds of funding. An ex-Kiva employee said, "it was simply growth: new customers provided partial payments for their systems upfront, and that was used to grow the company.  As long as you are growing quickly, you can actually have positive cash-flow.  Eventually profits kick in."
Universal Robots was initially funded by a Danish semi-governmental group but was subsequently self-funded, in a similar manner to Kiva, up until they sold to Teradyne for $350m earlier this year.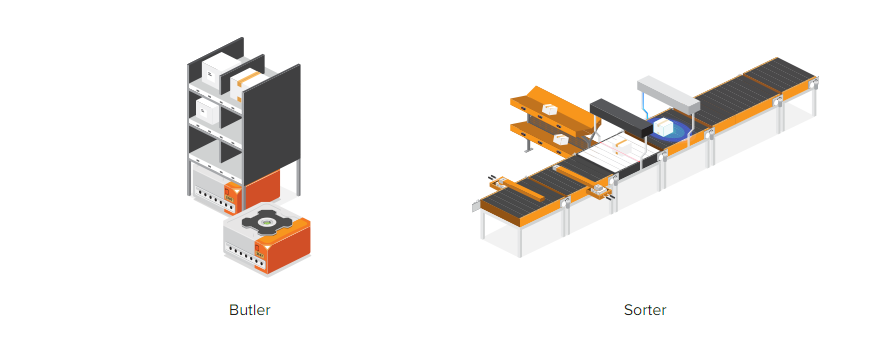 Recently, Farhad Manjoo wrote in the NY Times about the propensity of startups to stay private. He cited executives not wanting to give up control or subject themselves to regular scrutiny by those that don't really understand the business. This trend is causing valuations to differ for private as opposed to held publicly held companies (privately held valuations are higher). It is also causing public investors to miss out some of the successful companies in this new growth industry.
In John Markoff's new book Machines of Loving Grace he describes the principle on which the Kiva system was developed:
Kiva Systems had the insight that the most difficult functions to automate in the modern warehouse were ones that required human eyes and hands, like identifying and grasping objects. Without perception and dexterity, robotic systems are limited to the most repetitive jobs, and so Kiva took the obvious intermediate step and built mobile robots that carried items to stationary human workers. Once machine perception and robotic hands become better and cheaper, humans could disappear entirely.
Finally, a word about IP (intellectual property, in the form of patents and copyrights): GreyOrange has to be on Amazon's radar for possible IP infringement. I am presuming that GreyOrange has vetted their IP versus Kiva/Amazon and concluded that they are unique enough to not cause legal problems.
tags:
Amazon
,
c-Business-Finance
,
cx-Industrial-Automation
,
greyorange
,
Kiva
---
Frank Tobe
is the owner and publisher of
The Robot Report
, and is also a
panel member
for Robohub's
Robotics by Invitation
series.
Frank Tobe is the owner and publisher of
The Robot Report
, and is also a
panel member
for Robohub's
Robotics by Invitation
series.