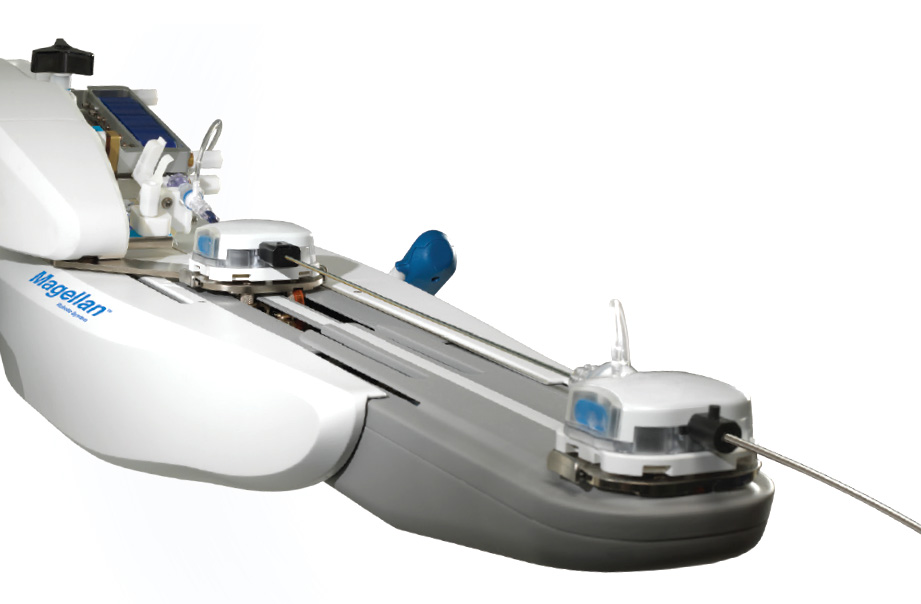 Two robotics-related companies just got funding. Hansen Medical sold 53,846 shares to get $35M; and Clearpath Robotics got $11.2M for an unusual reason.

Hansen Medical, a Silicon Valley robotic medical device company, got $35 million – at today's price – in a post-IPO equity transaction where Hansen sold shares of newly issued convertible preferred stock and warrants that, if exercised, would enable purchasing even more shares, but which can be converted into shares of Hansen Medical's common stock whenever the buyer wishes.
Proceeds from the transaction will be used to increase sales of the Sensei Robotic System, strengthen internal operations, and support Hansen Medical's commercialization efforts with their newest product, the Magellan Robotic System.
Hansen has received $116 million since 2011 – including this most recent $35M – to develop and launch their solutions using intravascular robotics technology for peripheral vascular interventions.
Clearpath Robotics, a Canadian provider of various types of mobile robots, received $11.2 million to aggressively expand its robotics portfolio for industrial material handling applications and continue its mission of building robots that improve human lives. Clearpath was the first robotics company to join the Campaign To Stop Killer Robots and vow never to make robots that autonomously decide when and where to fire weapons.
The company plans to apply similar ethical standards as it expands from rugged outdoor robots to industrial material handling robotics.
Ever since 2009, when the company began working on low-cost robots that could clear minefields without risking human life, Clearpath Robotics has integrated proprietary technology into existing equipment spanning position tracking, maintenance, hauling or equipment control. From mine-removal to providing reliable unmanned vehicles to help researchers innovate faster, and a full product line of mobile robots, manipulators and aerial and underwater vehicles, Clearpath became profitable after just 18 months in business and this is their first funding since their initial angel seed funding of $360,000.

Their reason for this funding is to create a swarm of carrier robots that can pick and place items on shelves and other storage systems automatically, freeing up humans to focus on other logistical tasks.
"We are building robots that are essentially self-driving vehicles for the factory floor. Factories are organized chaos, and there is a huge movement to automate manufacturing operations, particularly for dull, dirty and dangerous jobs, and this fits with our mission to use technology to make life better," said Matt Rendal, Clearpath CEO. "We envision a world where people don't get hurt at work and where manufacturers can move operations back to North America because they don't have to chase cheap labor."
tags:
c-Business-Finance
,
Clearpath Robotics
,
Hansen Medical
---
Frank Tobe
is the owner and publisher of
The Robot Report
, and is also a
panel member
for Robohub's
Robotics by Invitation
series.
Frank Tobe is the owner and publisher of
The Robot Report
, and is also a
panel member
for Robohub's
Robotics by Invitation
series.