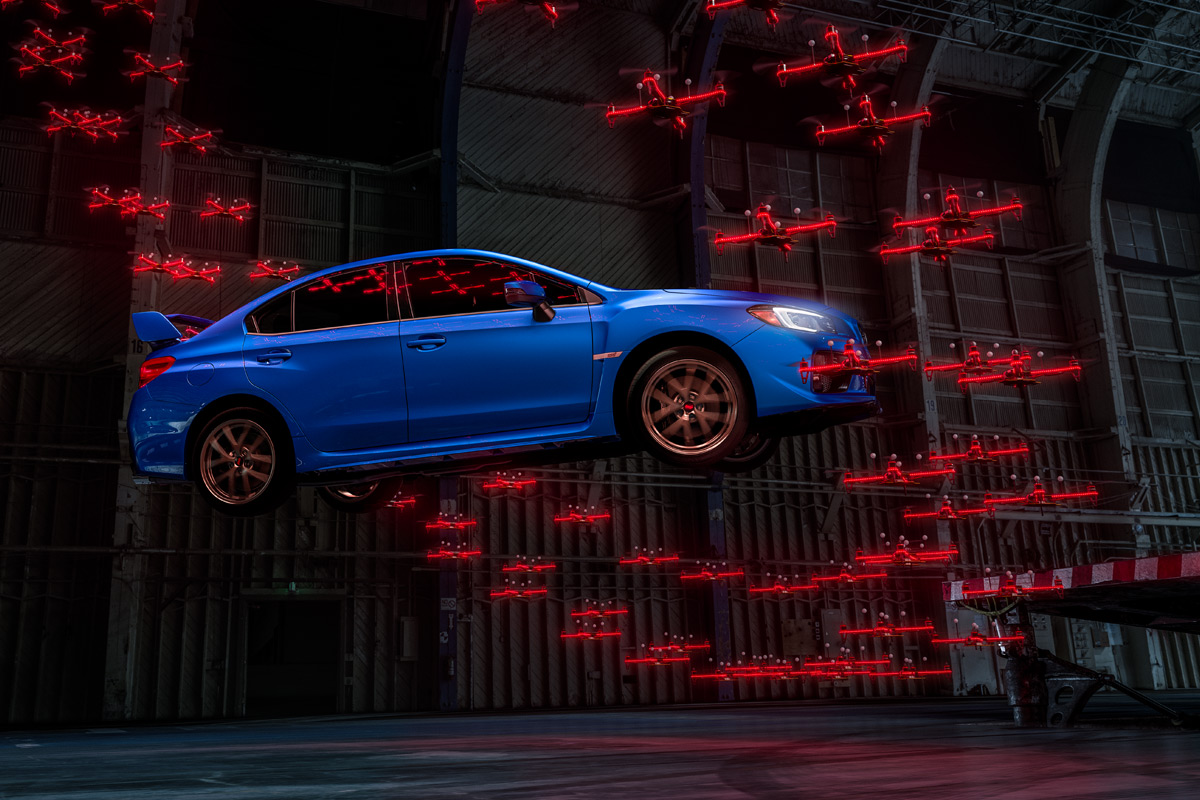 What's with all the quadrotors in auto advertising these days? And what do quadrotor swarms have to do with cars? Probably not much at all, but apparently associating your auto brand with high-performance quads is de rigeur. Subaru is following the lead of Lexus (which launched its quadrotor ad last November), upping the ante by having the driver of the new WRX STI engage in a pas de deux (or should we say, 'pas de plusieurs?') with a swarm of 300 LED-lit quadrotors. It makes for some pretty stunning footage, but before you get too excited, unlike the original Lexus ad (which had at least a decent portion of real footage from Kmel's impressive quads) almost all of the quadrotor eye-candy in the new Subaru ad is CGI. The automaker's desire to associate themselves with cutting edge technology may be a sign of just how popular quadrotors have become, but is hyper-realistic CGI enhancement inflating consumer's expectations of what quadrotors can actually do? (see the video below)
Quadrotors are famous for performing amazing stunts in the frontier of what we think is possible from a machine. DDB Canada/Tribal Worldwide, which is the ad agency behind this project, wanted to associate the performance and especially the maneuverability of the new Subaru WRX STi with the stunts performed in various quad videos-gone-viral.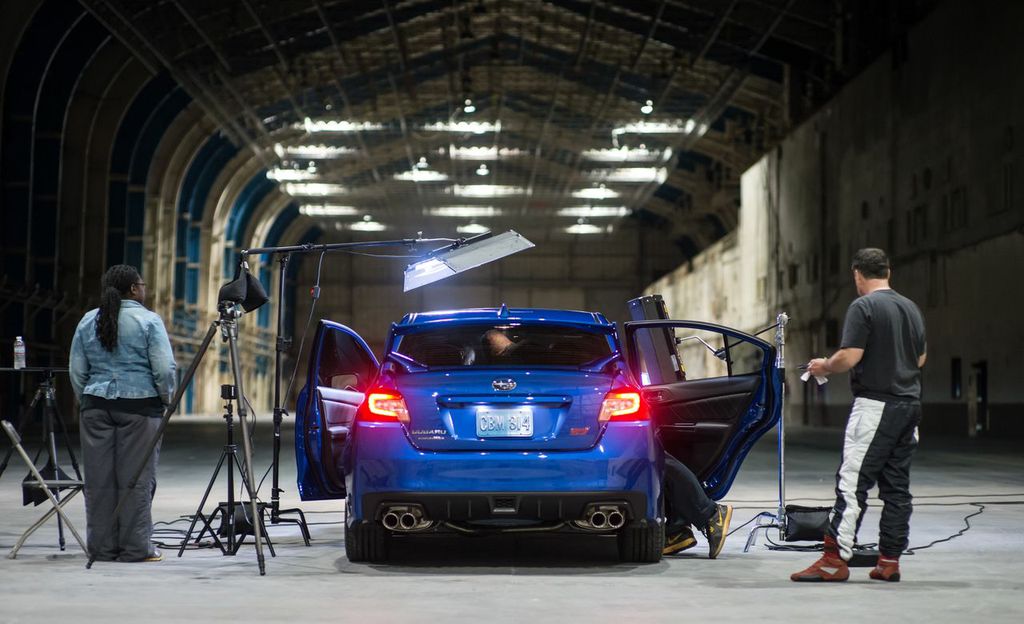 The production used live action captured in the Hughes Airport Hangar in Los Angeles, California (which was purchased by Youtube and converted to a 41,000-square foot mega studio) along with Big Block's Drive-a-tron system where a car is accurately modelled – both geometrically (with manufacturer's CAD models) and dynamically (its physics and performance envelope). However the quadrotors (although modeled according to real drones) are all computer generated (note that none of the behind-the-scenes photos contain a quadrotor). The final footage is almost completely CGI and the process took 8 weeks.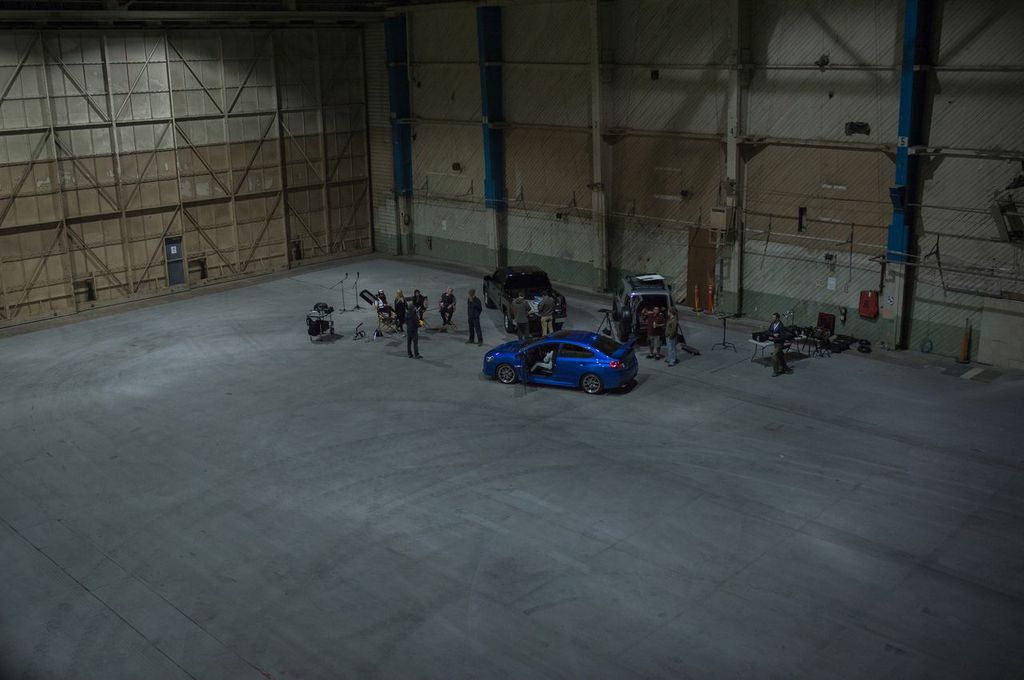 By using real-life emulating models, the production ensures that what you see on the video could have been performed in real life. That is true for the car, which is accurately modelled, but it's speculative for the quads, even if it's not totally far-fetched based on what has already been done (but not at that scale) by several labs like the Flying Machine Arena, or even K-Mel, the robotics company behind the Lexus drone ad.
Just how far away are we from quadrotors actually being able to perform stunts like these? Raffaello D'Andrea, the lead researcher behind the Flying Machine Arena, says "With enough of a budget, this could be done by a few groups of people now. But it is much, much cheaper to do this with CGI."
"It definitely changes people's expectations and is no different than the portrayal of any advanced technology in technology in movies, television, and videos. But: seeing it live is completely different; even though people may be partially "desensitized" by CGI, this immediately disappears when they see it live," added D'Andrea, who is no stranger to giving live demos that feature his quadrotor research. "As someone who thrives on doing live demonstrations, I don't see this as being harmful in any way."
We also asked Alan Winfield, Hewlett-Packard Professor of Electronic Engineering at UWE Bristol and expert of the portrayal of robotics in the media his thoughts on whether CGI will inflate people's expectations of what quads can do, and he agreed that it's a problem. But, he adds, "What I also find curious and interesting (in a geeky kind of way) is that the CGI in the Subaru ad faithfully reproduces the grey reflective spheres needed by the tracking system in labs – especially at ~44s. It's ironic that the eye-candy drones include the very tracking tech that many people don't realise is needed to make them do precision formation acrobatics."
We can't blame Subaru for wanting to jump on the quadrotor bandwagon … quadrotors are popular, cutting edge and hip (they are already making an entry into concept cars).  But while car enthusiasts will already have their opinions about the new Subaru WRX STi (it's an evolution of a well-proven and popular model), we have to wonder how people's expectations of drone technology will be shaped when they're exposed to mostly CGI videos and advertisements rather than real footage.
In fact there is some astounding work being done with high-performance quads and aerial swarms. If you want to get a sense of what's really doable, check out the following 2012 video, which was developed for the The Ars Electronica Futurelab with input from ETH-Zürich, the University of Pennsylvania's GRASPlab, and the MIT-Medialab. You can find the full behind-the-scenes story about this project here.
PS. The Lexus ad mentioned above
Amazing in Motion – SWARM (Lexus Ad)
The making of "SWARM"
If you liked this article, you may also be interested in:
See all the latest robotics news on Robohub, or sign up for our weekly newsletter.
tags:
c-Arts-Entertainment
,
cx-Aerial
,
entertainment
,
Flying
,
Swarming
,
video
---
Hallie Siegel
robotics editor-at-large
Hallie Siegel robotics editor-at-large
---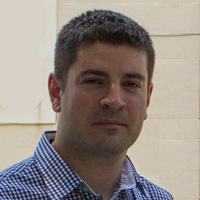 Ioannis K. Erripis
joined the ROBOTS association in early 2011 as a news reporter and now leads all technical aspects of the Robohub project, including website design, implementation and branding.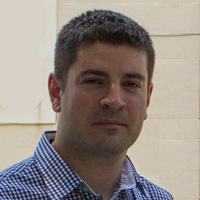 Ioannis K. Erripis joined the ROBOTS association in early 2011 as a news reporter and now leads all technical aspects of the Robohub project, including website design, implementation and branding.