Last month, Swiss startup noonee completed the first round of testing for their Chairless Chair with German car manufacturer Audi. The Chairless Chair is a wearable sitting exoskeleton for people working on construction lines that is designed to allow movement while still providing enough support to prevent the repetitive stress and health problems that are so common in this kind of work. 
Rather than just providing a chair to sit in, noonee avoids the issue of muscle wastage by designing the exoskeleton to support the wearer in such a way that they continue to use their muscles.
The version of the Chairless Chair tested at Audi is called TITAN, which made out of titanium. The next stage of development will be to create a version manufactured from carbon.
noonee CEO Keith Gunura said, "With the user feedback we collected we are now stepping up development of the Chairless Chair to bring it to an amazing product that provides the support needed while working. Our target is that early Q1 2016 there will be a ready product to push forward the 'Chair-olution' to the rest of the world!" noonee is a spin-off from the Swiss NCCR Robotics.
Dr. Mathias Keil, Head of Industrial Engineering Methods at AUDI AG added "With the use of the chairless chair, we are continuously improving ergonomics in assembly operations. We also anticipate new applications for colleagues with reduced physical capabilities."
Interested companies can register their interest by sending an email.
---
If you liked this article, you may also be interested in:
See all the latest robotics news on Robohub, or sign up for our weekly newsletter.
tags:
c-Research-Innovation
,
Chairless Chair
,
exoskeleton
,
NCCR Robotics
,
Noonee
,
Switzerland
---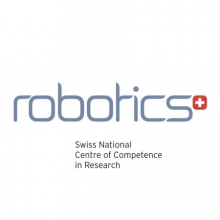 NCCR Robotics