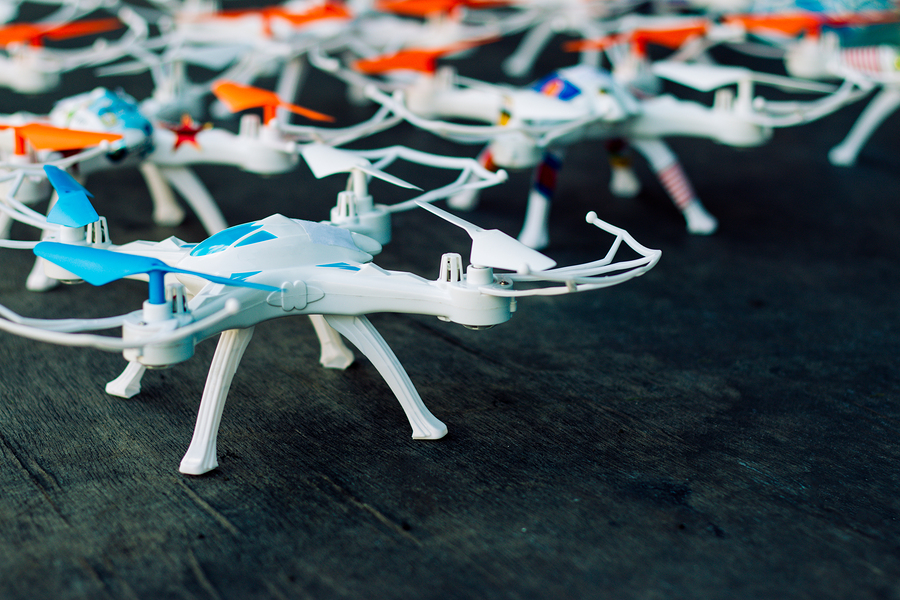 Toy and entertainment drones, camera drones for professional and business use, moon-shot drones and military drones are all becoming more and more distinct as much of the drone industry gets commoditized. Prices are dropping even as impressive new features are added. It's a difficult time in the drone business.
UPDATED 1/13/2017: SF District Attorney files false advertising suit against Lily Robotics. Details added below.
Commercial drones
The commercial drones market consists of consumer products like toys, games and camera drones for photography and action selfies, and the professional market (called the pro-sumer market) which serves the construction, surveying, mapping, utilities, telecom, ag, public safety and insurance industries where the drone is matched with speciality software to provide package solutions unique to those industry groups. Many feel that a saturation point has been reached in the consumer marketplace and that after reaching that point it then becomes a race to the bottom in terms of price and profitability, hence the shift to the pro-sumer market by almost all drone makers.
Parrot SA – layoffs
Parrot SA is a French wireless products manufacturer based in Paris, France. Parrot invented and manufactured the AR.Drone and initiated a drone division which now represents 1/3 of their business. Parrot just released its Q4 2016 report which showed a 15% drop in revenue. The company had revenues of €85 million but targeted €100 million. Revenue from drones was €60 million, with €11 million coming from commercial, and €49 million from consumer drones. As a result, Parrot announced plans to reduce its drone workforce by 35%, laying off around 290 people.
Parrot plans to focus on a reduced number of consumer products, redeploy product offerings, realign resources and adjust its support teams. Conversely, Parrot will continue to invest in its commercial drone business which has been doing well and is steadily growing.
3D Robotics – layoffs
3D Robotics and their Solo quadcopter were media hits until their product stumbled and their ambitious inventories didn't move. Like Parrot, 3DR laid off hundreds last year, had to shut down facilities, and has since been scrambling to keep afloat by refocusing on commercial operations in the pro-sumer marketplace.
Lily Robotics – refunds and failure
Lily, a Silicon Valley startup with a stylish camera drone and presentation, announced that although it had $34 million in pre-sales, it couldn't get additional funds to meet production demands and was closing down. What remains of the company is focused on handling refunds.
"After so much hard work, we are sad to see this adventure come to an end," founders Balaresque and Bradlow wrote on the Lily website. "We are very sorry and disappointed that we will not be able to deliver your flying camera, and are incredibly grateful for your support as a pre-order customer."
In a late development which portends difficulty for other over-exuberant marketing types, the San Francisco district attorney's office filed suit against Lily Robotics over claims that the drone maker engaged in false advertising and unfair business practices. Lily said it would begin shipping drones to customers who had placed orders by February 2016 but failed to live up to that promise. The office alleged that Lily lured customers with a promotional video that was actually filmed by a "much more expensive, professional camera drone that required two people to operate."
"It does not matter if a company is established or if it is a startup," District Attorney George Gascón said in a statement announcing the lawsuit. "Everyone in the market must follow the rules. By protecting consumers, we protect confidence in our system of commerce."
Google – moonshot shutdown
Alphabet (Google) has closed down the Titan Project to fly high-altitude drones that would beam wireless Internet access back down to the earth. More than 50 project members were let go – some have moved to other Google X projects. Titan Aerospace was acquired by Google in 2014 and was reformed into the Titan Project which competed with another Google X project, Project Loon, which also has problems. Loon is temporarily mired in an IP infringement suit with Space Data.
GoPro Karma – layoffs and refunds
Although GoPro had a big presence at CES, their Karma drone wasn't there and the sales people said that they hope it will be re-released in a few months. Karma was high-profile, long-anticipated, and late. The Karma was supposed to be the company's hope to pull up diminishing revenues. Karma had mid-flight power failures and GoPro recalled all the devices shipped and offered refunds. GoPro cut its staff by about 200 people in November. Karma's relaunch, if it happens, will need to compensate for product and price improvements offered by DJI that outperform and underprice the Karma in all but camera lenses.
SZ DJI Technology – 2/3 of the market
DJI is the elephant in the room. Their products have outperformed, outpriced and been faster to market than all their competitors. Their marketing has emphasized integration with pro-sumer software, GoPro cameras and mounts, and other accessories. They keep on inventing and they are headquartered in Shenzhen where all their suppliers reside, hence their ability to be quick to market.
"What we realized is that it's inherently much more difficult for a Silicon Valley-based, software-focused company to compete against a vertically integrated powerhouse manufacturing company in China," said Colin Guinn, 3D Robotics' former chief revenue officer.
Founded in 2006 as a company that built flight controllers for remote control toy helicopters, DJI unveiled the Phantom in 2012, an off-the-shelf drone that became the standard for consumer drones.
DJI seems to have a rhythm to their products: launch, then 6-10 months later lower prices, then launch a newer upgraded product at a price point halfway between the previous product and the discounted price, then repeat the process.
Even DJI has recently begun to feel the heat from fellow Chinese drone makers Xiaomi and Yuneec both of which undercut DJI with similar products at lower prices. Hence DJI's stressing their collaboration with and integration of software and accessory vendors focusing on the pro-sumer marketplace.
Defense drones
In the defense sector the Predator, Reaper, and Global Hawk drones that have done their work in two wars have become popularized by movies that exposed their expense, their vulnerabilities, and their Las Vegas-based human pilots and sensor operators controlling them remotely. Now DARPA and the DoD are introducing new robot war machines. Their latest is drone swarms, where several small flying robots work together to do jobs previously done by the larger craft. An anti-air missile can shoot down an $18 million Reaper, but firing that same anti-air missile at a swarm of drones wouldn't work.
With every Predator, there's a joystick and flight controls for a human pilot who maneuvers it. That format changes entirely with a group of autonomous swarming drones.
"They are a collective organism, sharing one distributed brain for decision-making and adapting to each other like swarms in nature," according to Strategic Capabilities Office Director William Roper. Unlike the Predator, where the machine responds to the pilot's joystick, this swarm receives objectives from a human controller, and then directs itself to that location. Presumably, the swarm could still fly to a preset list of objectives even if it loses contact with a human controller, giving it the freedom to operate in the face of jamming as well as anti-air weapons.
Drones to protect and defend are a necessary part of government's province and a steady source of research, invention, and income for the military industrial complex. In the next four years, at least in the U.S., the defense/security segment of the drone industry is expecting significant growth.
tags:
c-Aerial
,
DJI
,
drone industry
,
drones
,
Frank Tobe
,
Lili robotics
,
Parrot
,
The Robot Report
---
Frank Tobe
is the owner and publisher of
The Robot Report
, and is also a
panel member
for Robohub's
Robotics by Invitation
series.
Frank Tobe is the owner and publisher of
The Robot Report
, and is also a
panel member
for Robohub's
Robotics by Invitation
series.