ep058
Distributed flight array, with Raymond Oung
In this episode, we discover an aerial modular robot called the Distributed Flight Array. To talk about this, we have Raymond Oung from the Swiss Federal Institute of Technology in Zürich.
Then, to celebrate aerial robotics, we're holding a contest on flying robot noises for a chance to win a WowWee Bladestar.Raymond Oung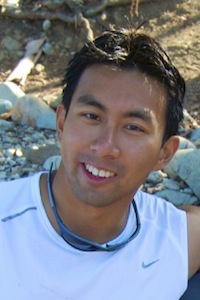 Raymond Oung is lead researcher of the Distributed Flight Array project at the Swiss Federal Institute of Technology in Zürich under the supervision of Prof. Raffaello D'Andrea (see previous ROBOTS interview).
The idea behind this project is to design a set of vehicles equipped with a single propeller and wheels that can drive around in search for fellow modules with whom to dock. Single modules are not stable but once assembled, the flight array is able to take-off and achieve coordinated flight. Modules then detach in-air, fall to the floor and repeat their search for other propellers.
The main challenge in this system is to come up with a distributed controller that can allow modules to work together to achieve coordinated flight. Because of its endless number of configurations, the distributed flight array is the perfect research and pedagogical testbed to study control theory for complex systems.
Contest
We were trying to imagine the sound of all of these propellers and then realized it would be fun to record the sound of some of the flying objects here at EPFL. If you manage to match the sound with the correct robot picture, we'll be sending you a Wowwee Bladestar. If multiple correct answers are received, the winner will be selected randomly. The contest ends on the 27th of August and answers can be sent via email to info@robotspodcast.com or can be posted below this episode in the comments section.

Audio:

Images:
The correct answer was:
1 -> F
2 -> B
3 -> A
4 -> C
5 -> E
6 -> D
Links:
---
Latest News:
For more information and videos of Ishiguro's Telenoid R1 and the F1 Robocoaster in action, have a look at our forum.