ep150
150th Episode Special, with Dario Floreano
Did you know that Robohub started right here, with the podcast? This is our 150th podcast episode, and to celebrate we brought together the original team to reenact our very first interview with Dario Floreano back in 2006. Floreano, who is director of the Laboratory of Intelligent Systems at EPFL and of the Swiss NCCR Robotics tells us about the latest in Swiss robotics, his work in adaptive morphologies and flying robots, and his predictions for the future of robotics.
Some of our most loyal podcast listeners might know that before the Robots Podcast launched in 2008, there was another podcast called Talking Robots. Talking Robots launched in 2006 and was the brain child of Dario Floreano from EPFL and his then PhD students. Those students then went on to found the Robots Podcast and the accompanying Robots Association, a non-profit dedicated to providing free high-quality information about the robotics to the public. After nearly a decade dedicated to spreading the word about robotics, we've grown to include members from around the world, launched new projects (like Robohub!!), and we've continued to produce bi-weekly interviews with leaders in robotics. None of this would be possible without our loyal listeners, and we thank you for tuning in for all these years!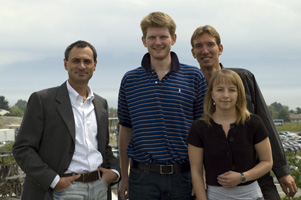 Talking Robots Team in 2008 (from left to right: Dario, Peter, Markus and Sabine).
In homage to our very first episode with Talking Robots, we've brought together the original team. Markus, who's now a senior researcher at ETHZ interviews Dario Floreano, Director of the Laboratory of Intelligent Systems at EPFL and head of the Swiss NCCR Robotics. Should be fun to see how robotics has progressed over the past 8 years! And we look forward to the future with our growing team of podcasters.
Dario Floreano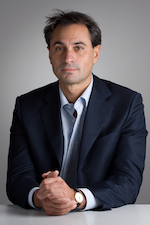 Dario Floreano is the director of the Laboratory of Intelligent Systems at EPFL and director of the Swiss National Center of Competence in Robotics. He is member of the Global Agenda Council on Robotics and Smart Devices of the World Economic Forum, is co-founder of the company senseFly S.A., of the International Society for Artificial Life, and founder of the popular robotics podcast series Talking Robots.
Floreano has been on Talking Robots and the Robots Podcast several times in the past:
Swiss Robotics
New Years Special 2008
Evolutionary Robotics
Robotics and Artificial Intelligence
In this episode, he tells us about the latest activities of the Swiss NCCR Robotics, including a robotic prosthetic that can interface with the human nervous system to give users a sense of touch. He also talks about work done at his lab in adaptive morphologies (DALER) and flying robots (Gimball).
Links: