ep111
Robotics festival, with Francesco Mondada
In today's episode we speak with Francesco Mondada, organizer of the Robotics Festival at EPFL that gathers over 15'000 visitors for hands-on workshops and demonstrations. We also walk you through the many exhibits showcasing multi-robot systems, flying robots, rehabilitation robots and robotic salamanders.
Francesco Mondada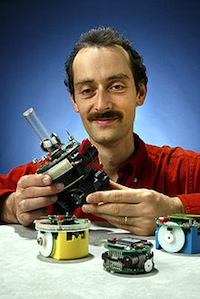 Francesco Mondada is the director of the Miniature Mobile Robots Group at EPFL in Switzerland. We spoke with him last fall about his work in Educational Robotics. An expert in education, he received the Credit Suisse Award for Best Teaching last year. Some of his most popular robots used in schools and labs around the world include the Khepera, the S-bot and marXbot, the e-puck and more recently the Thymio and Thymio II. He also founded and was CEO of K-Team, a Swiss based company that develops, manufactures and markets mobile robots for use in advanced education and research. In this interview we catch his first impressions after the 5th edition of the Robotics Festival that took place at EPFL. A success from the very beginning, the Robotics Festival managed this year to draw 15'000 visitors in a single day of interactive workshops, demos, and robotic shows and featured demonstrations of Festo's AirJelly.
Robotics Festival
The Robotics Festival aims to demystify engineering for the general public and especially kids. Of the 15'000 visitors, 1994 attended workshops where they learned to make robots, program and do electronics, while 6091 attended robotics shows. The rest walked around the many exhibits showcasing latest advances in robotics by research institutions and industry. In this episode, we take you to some of the demos:
Here are some of the robots mentioned.
Links: