Intel Capital invested $60m in Chinese drone startup Yuneec last month. At last week's InterDrone conference and expo, one can readily see why: lots of interest, lots of people, and products that are becoming commodities.
Intel and Yuneec will work on developing future products. Yuneec makes drones for consumers and industrial users, as well as manned electric aircraft. Intel has also invested in drone companies Airware and PrecisionHawk. These drone relationships fit with Intel's strategy to make investments in companies developing products with the potential to expand the market for semiconductors, as the company searches for new devices for chips.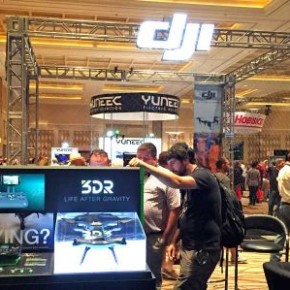 Hong Kong-based Yuneec Electric Aviation is one of the Big 3 of drone manufacturers exhibiting at this week's InterDrone International Conference & Exposition in Las Vegas. The other two being SZ DJI Innovations and 3D Robotics. Yuneec and DJI are Chinese companies; 3D Robotics is San Diego based. DJI recently received $75m from Silicon Valley VC, Accel Partners. 3D Robotics got $64m so far this year. A study of the 700+ FAA exemptions for commercial drone use shows that the overwhelming majority of them are for companies using DJI quadcopters.
Sixty million dollars for Yuneek, $75m to DJI and $64m to 3D Robotics adds up to a lot of money and interest.
That interest was apparent at the InterDrone event at the Rio Convention Center in Las Vegas. It was the first such event for InterDrone, yet from my walk around the show and attendance at a few of the packed conference sessions, it seemed to be successful. 99 exhibitors and over 3,000 visitors. I heard the latter group asking very cogent questions about how drones' capabilities, their data and mapping software could be used for various applications. The appeared to be a high number of foreign visitors (as can be seen on the pin-board map.)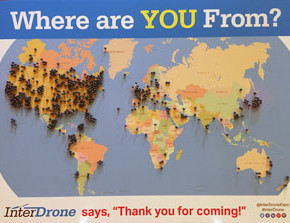 Another observation from the show was the number of secondary exhibitors: GoPro and GoPro accessories, makers of carrying cases, lenses, sensors, mapping software, retail stores carrying multiple lines of drones, cameras and cases. Samy's Camera, a large West Coast camera and printer provider, was showing off the fact that they've been selling all brands of drones for photographic purposes for years.
BOTTOM LINE: The commercial drone industry is maturing in a similar way to industrial robots: a few major manufacturers are providing their arms (drones) to thousands of integrators, resellers and value-added service providers, which extend the sales reach of the drone (robot) manufacturers.
tags:
3D Robotics
,
c-Business-Finance
,
DJI
,
interdrone
,
yuneec
---
Frank Tobe
is the owner and publisher of
The Robot Report
, and is also a
panel member
for Robohub's
Robotics by Invitation
series.
Frank Tobe is the owner and publisher of
The Robot Report
, and is also a
panel member
for Robohub's
Robotics by Invitation
series.