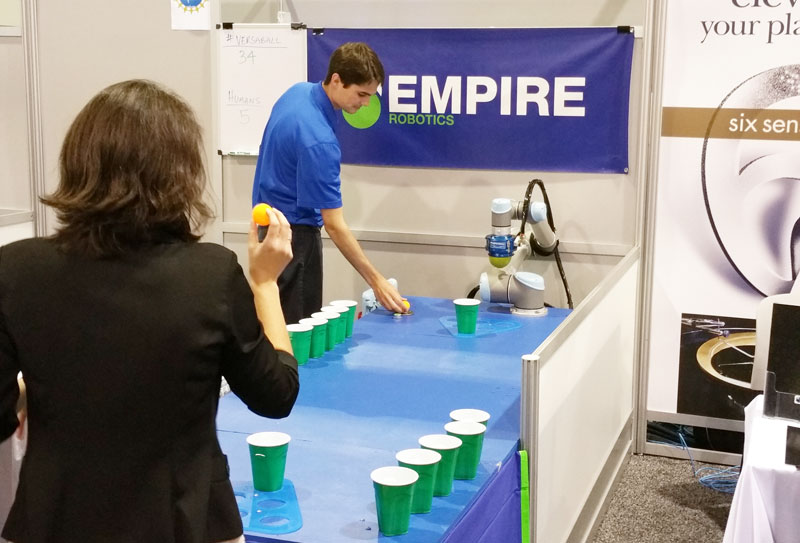 Exhibiting at big events takes both time and money. Is it worth it for a robotics startup to invest in big expos like CES? We asked Bill Culley of Empire Robotics – the company behind the VERSABALL soft ball gripper – to share his perspective. 
Why is Empire Robotics at CES?
We are at CES to show people that industrial robots are entering a new age – an age where it is safe to interact with them, they are easy to use, and they have capabilities beyond the old hard coded, do the same thing a million times with no error tolerance. Our robot gripper is soft, safe to work around, easy to program, and highly adaptable to a changing environment.
What is exciting at CES this year?
Well, there are certainly some very innovative technologies and product unveilings at the show this year. Plenty of connected and wearable devices, and of course the new Tesla Model X. And believe it or not, our little 10'x10' booth has managed to garner coverage on par with some of these other high profile releases. People seem to be interested in robots, so we created a demo for people to come challenge a robot to a game of beer pong, and it's gained attention beyond our expectations.
What's the value for you given that CES is consumer facing and your product falls more into the industrial use category? 
This is not our target market (electronics consumers vs. industrial manufacturing engineers), so we don't expect to meet customers at this show. But, we have found that a lot of our customers find us by reading an article on a tech blog, or seeing a posting on facebook in a engineering gadgets group. So we figure if we create a demo of our technology that can grab attention, the story will make its way to our target audience through second and third degree sharing from one interested engineer to the next.
Was it worth it?  
Yes. We have participated in trade shows, large and small, in the past and they always end up being worth it. Making one good connection often pays for the cost of the event, and we learn a lot by talking about our technology and answering hundreds of questions that reveal patterns in customer mindset. CES in particular … we have gotten great exposure in articles around the web already, and our video of the demo just hit 250,000 views. We've already had a few new customers contact us after they saw the beer pong demo, so it seems to be working.
What other conferences does a startup go to? 
Industrial trade shows are the best for us. We get to learn about our partners in the market, our competition, and our customers in a very focused place. It's a great place to build relationships with other industry players by seeing the same people at different shows. And it seems to build customer confidence in our company when they see us at a few different trade shows – we start to blend in with the established names in the industry.
What advice can you offer other startups that are thinking of exhibiting at an expo?
Have a demo that grabs attention from a distance. Many of our customers cruise through an expo in half a day to see if there is anything new, then head back to their office. If they can't see our grippers doing something they've never seen before from ten feet away, they'll pass right by us.
Empire Robotics specializes in flexible robotic end-effectors that leverage the jamming phase transition of granular materials. You can learn more about the technology behind their VERSABALL gripper here. 
If you liked this article, you may also be interested in:
See all the latest robotics news on Robohub, or sign up for our weekly newsletter.
tags:
c-Events
,
CES 2015
,
Empire Robotics
,
Grippers
,
soft robotics
,
startups
---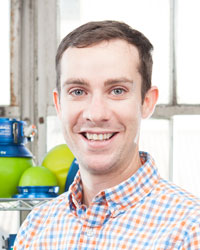 Bill Culley, Empire Robotics
is cofounder of Empire Robotics.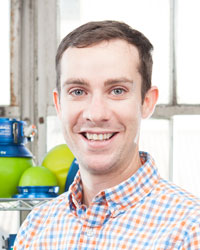 Bill Culley, Empire Robotics is cofounder of Empire Robotics.