ep139
Origami Robots, with Nick Kohut
In this episode Matthew Schroyer speaks with Nick Kohut, CEO of Dash Robotics, about their foldable hexapod robot and the ongoing crowdfunding campaign to get them into the hands of budding engineers, kids and hobbyists.
Dash is the result of years of research in fast prototyping of bioinspired robots at Ron Fearing's Biomimetic Millisystems Lab at UC Berkeley (see Fearing Podcast or Hoover Podcast). The palm-sized origami robot is now available for the general public to build and program. The robot takes inspiration from insect locomotion by using compliant and light weight hardware to drive over difficult terrain without using any complex controllers (see Bob Full podcast). You can check out their Dragon crowdfunding campaign for a chance to get one of the first 1000 robots. The campaign ends on October 2nd.
Nick Kohut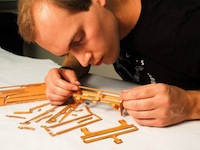 Nick Kohut is the co-founder and CEO of Dash Robotics. He is also a postdoc at Stanford University in Mark Cutkosky's Biomimetics and Dextrous Manipulation Laboratory, working on a variable stiffness suspension element for humanoid robotics. He received his Ph.D. in Mechanical Engineering at the University of California, Berkeley, in Ron Fearing's Biomimetic Millisystems Lab, developing small legged robots. His research focused on the development of an active tail to enable high speed turning. In the past, he also did research on centimeter scale robots, and using GPS and traffic information to improve fuel economy.
Links: